Brazil's stock market was up 20% in just three months and within striking distance of an all-time high. Everyone seemed to think the rally would continue.
But as I showed, there was "negative divergence" on the chart. Although the benchmark Brazilian Bovespa Stock Index was making higher highs, its momentum indicators were making lower highs. Negative divergence is a strong warning sign a rally is coming to an end. So Brazil was an ideal short-sale trade.
After my essay, Brazil's stock market did rally for a couple more months – hitting a new high in August. Since then, though, the negative divergence has taken its toll...
Take a look at this chart of Brazilian stock fund EWZ...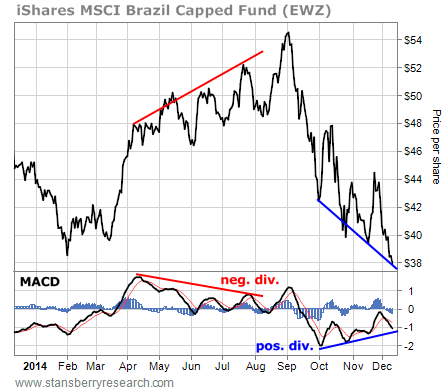 EWZ is now trading 21% below where it was back in June. It's 30% below its late-August high.
If you shorted Brazil back in June, you're sitting on solid gains. And now it's time to cash out.
By the look of the chart, Brazil's stock market is gearing up for a rally. The technical condition of the chart is almost the exact opposite of what it was back in June.
EWZ has been falling and making lower lows. But notice how its Moving Average Convergence Divergence (MACD) momentum indicator – a measure of overbought and oversold conditions – has been pushing higher. This "positive divergence" is an early warning sign that the decline in Brazil is nearing an end.
So it may be time to start thinking about buying Brazil. The price action remains weak, without any signs of a reversal so far. But the positive divergence should eventually play out. I expect Brazil's stock market will be higher six months from now than where it is today.
Best regards and good trading,
Jeff Clark