Despite the seasonally bullish time of year and major stock market indexes trading at or near all-time highs, one warning sign is flashing.
Junk bonds (corporate debt that is rated lower than investment grade) have fallen. The stock market and the junk-bond market tend to move in the same direction. So I said stocks were setting up for a selloff.
Now, there's another reason to be cautious...
Take a look at this chart of the New York Stock Exchange (NYSE) Summation Index...
The NYSE Summation Index is a measure of overbought and oversold conditions. The indicator is bullish for stocks when it's moving higher. It's bearish for stocks when it's moving lower.
The Moving Average Convergence Divergence (MACD) momentum indicator at the bottom of the chart is helpful in determining when the NYSE Summation Index is about to change course.
For example, the blue circles on the chart indicate when the MACD completed a bearish crossover (the black line dropped below the red line). You can see how that coincided with downside reversals in the NYSE Summation Index.
Now, take a look at how the S&P 500 traded following those reversals...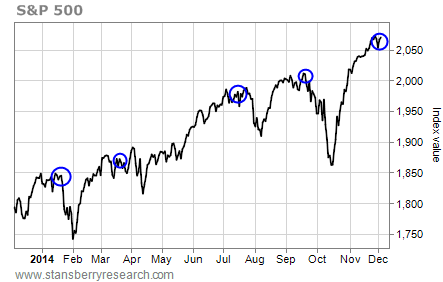 The stock market moved lower following each of the four previous NYSE Summation Index reversals this year.
And on Tuesday, we got the fifth reversal. So given the history of this indicator, there's a good chance the broad stock market will soon start to move lower.
Yes, there are seasonal influences that could keep the market pushing higher between now and the end of the year. But the junk-bond market and the NYSE Summation Index are flashing warning signs.
In short, the market looks dangerous right now. Traders should be cautious for the next couple weeks.
Best regards and good trading,
Jeff Clark