Oil's price collapse is setting up a big rally in the energy sector.
But it's not in conventional oil producers...
At an OPEC meeting late last week, many member countries rallied for higher prices. But the leader of OPEC, Saudi Arabia, said the organization won't cut oil production to help oil prices... sending prices tumbling to their lowest level in four years on Friday. The benchmark West Texas Intermediate (WTI) crude oil price is now down around 39% since its high in June.
And oil's price decline has taken natural gas prices down with it. The price of natural gas has fallen around 10% since its June peak.
The shares of natural gas producers have also fallen. As you can see in the table below, many major natural gas producers are down double digits in the past five months.
Unlike oil, which could fall lower in the months ahead, natural gas prices are about to see a rebound.
Natural gas is a major fuel source of both heat and electricity. With temperatures quickly dropping in the U.S. (many parts of the U.S. have been hammered with cold temperatures and snow recently), natural gas demand should increase as consumers and businesses use gas and electricity to stay warm.
For example, last January, U.S. consumption of natural gas hit a record 3.2 trillion cubic feet (TCF). That's the largest monthly demand for natural gas since the Energy Information Administration began tracking this data in 2001.
And while demand is about to go up, natural gas supply is at a five-year low. Right now, the U.S. has the lowest volume of natural gas in inventory since 2010.
As you can see in the chart below, the lower 48 states have 3.4 TCF of gas in storage as of November 21. That's 9% less than this time last year... and more than 10% below the five-year average.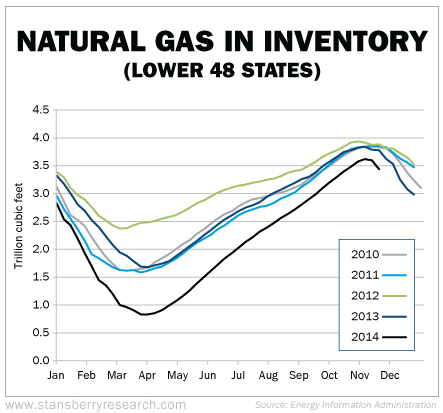 And thanks to falling oil prices, natural gas supply will continue going down in the short term.
You see, much of the natural gas produced in the U.S. is "associated gas." This is natural gas produced from oil wells. When a producer pulls a barrel of oil out of the ground, that liquid includes oil, some natural gas, and some natural gas liquids (things like ethane, propane, and butane).
In 2013, associated gas accounted for more than 18% of U.S. natural gas production. But with crude oil prices down to around $66 per barrel, producers are starting to cut unprofitable production or shut it down altogether. This will reduce the amount of associated gas production.
In short, natural gas demand is rising (and will continue to rise throughout winter) while supply is falling. And more demand than supply will cause natural gas prices – and natural gas producers – to soar in the months ahead.
Natural gas prices – and producers – are still falling today. But as soon as we see an uptrend start, I recommend adding one of the natural gas producers in the table above to your portfolio. After the recent energy-stock selloff, these names are cheap, and they'll be the big beneficiaries of higher natural gas prices.
Good investing,
Brian Weepie