Today, I'm going to share some timeless wisdom from one of my favorite investing "gurus."
As longtime readers know, one of my goals is to pass along insight, strategies, and actionable ideas from the world's best investors. These elite money managers have decades of experience, huge research budgets, and the best contacts.
Adding these gurus' ideas to your "trader's toolbox" can dramatically increase your trading success.
And the two simple lessons I'm sharing today can help you start earning bigger, safer returns...
Legendary hedge-fund manager Joel Greenblatt is one of the smartest investors alive.
Back in May,
I recommended "Big Cheap Tech" stocks
after noting that Greenblatt and a handful of other great investors were buying shares. QQQ, an unleveraged fund of tech stocks, is up more than 18% since then.
That's not surprising, given Greenblatt's track record.
From 1985 to 2004, Greenblatt averaged an astounding 40% annual return by focusing on great companies trading at good prices.
Greenblatt's book,
The Little Book That Still Beats the Market
, details his method, which he calls the "Magic Formula." It's an excellent, easy read. If you haven't read it yet, you absolutely should. While it focuses on Greenblatt's strategy for long-term investing success, there are plenty of great ideas in there for traders, too.
Let me show you two of the most important...
People go nuts a lot.
From early 2012 to early 2013, shares of fast-food giant McDonald's (MCD) swung from $101 to $84 to $103.
That's a wide range... In terms of the company's market value, it represented about $20 billion.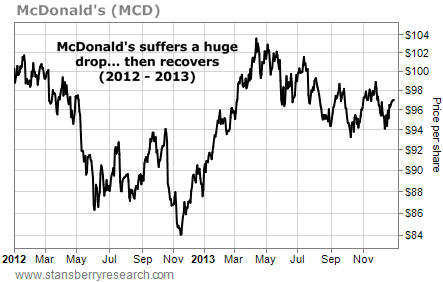 "How can this be?" Greenblatt asks. How can large companies experience such massive changes in price?
Can a company like McDonald's be worth $104 billion one day... and a few months later, be worth $84 billion... or vice versa? Was it selling 20% fewer burgers, making 20% less money? Five months later, was it making that many more burgers, making that much more money?
No... The intrinsic value of the company didn't swing from high to low to high... But the market value did. And of course, it's not just McDonald's. You'll find a price range this big – often bigger – on just about any blue-chip stock you look at.
If the intrinsic value of a large, high-quality company usually doesn't change radically in a short period of time, why does the market value?
Greenblatt's favorite answer is "Maybe people go nuts a lot."
For years, finance professors taught students that the stock market is a rational place... and that the market efficiently prices in business conditions. What the professors missed is that the stock market is made up of human beings... who tend to make irrational decisions from time to time. Or, as Greenblatt puts it, they "go nuts."
As we've seen over the past 15 years, people were willing to pay 300 times earnings for stocks during the Nasdaq bubble... They were willing to pay insane prices for houses in the 2006 real estate bubble. It's just human nature to "go nuts" from time to time... especially with money.
And you don't really need to understand why people "go nuts" in order to profit from it.
You simply need to look for situations where market value has fallen dramatically... but the intrinsic value hasn't. You want to find situations where people have gone nuts... and are willing to sell valuable assets for 50 cents on the dollar.
You are never required to act.
Greenblatt turns to another guru, the legendary value investor Ben Graham, for insight here... Graham thought of investing like being a partner in a business with "Mr. Market." Here's how Greenblatt describes the idea:
Each day [Mr. Market] offers to buy your share of the business at a particular price.
Mr. Market always leaves the decision completely to you, and every day you have three choices. You can sell your shares to Mr. Market at his stated price, you can buy Mr. Market's shares at that same price, or you can do nothing.

If Mr. Market is deeply pessimistic about the business' prospects... if he "goes nuts"... he'll offer to sell you his share of the business at a great price. That's when you want to buy.
But if he hasn't "gone nuts," you don't need to do anything at all. You can simply wait for him to make a better offer.
Many traders want constant action. And I hear from readers who are disappointed that DailyWealth Trader isn't a "trade of the day" service. The thing is, Mr. Market doesn't offer an infinite stream of great deals. When you don't see a great deal, the best choice is to do nothing.
Taken together, Greenblatt's two lessons – that people go nuts a lot and that you are never required to act – are the foundation of any good trading strategy.
If you take them to heart, you know bargains are bound to appear... and you'll have the patience to wait for them. That's a great start.
Good trading,
Amber Lee Mason