Something big just happened in the oil sector.
Last week, oil-services companies Halliburton and Baker Hughes announced they're merging to challenge the king of the sector, Schlumberger.
And it's creating a great opportunity for investors...
Oil-services companies are the "nuts and bolts" plays of the oil industry. They provide drilling equipment and service crews to oil giants like ConocoPhillips and ExxonMobil.
The largest oil-services company in the sector is Schlumberger (SLB) – with a market valuation of $127 billion. Halliburton (HAL) comes in second place with a $42 billion market cap – followed by National Oilwell Varco (NOV) in third at $32 billion and Baker Hughes (BHI) in fourth at $28 billion.
Last week, Halliburton agreed to pay $35 billion for shares of Baker Hughes. The two companies – both headquartered in Houston – will form a new company led by Halliburton's CEO. Combined, the companies have 136,000 employees, operate in more than 80 countries, and provide services from fracking all the way to production.
And the combined company will be a serious challenger to Schlumberger. It will still be smaller than Schlumberger, but I expect that to change over the next few years.
You see, both Halliburton and Baker Hughes are leaders in niche areas in the sector.
In West Texas, for example, companies use Schlumberger for horizontal drilling, but many turn to Baker Hughes for oilfield chemicals to keep oil production safe and cost-effective.
A suite of great services under one roof will make the combined company a dominant player in the sector in the years to come.
Halliburton's CEO also says the merger will result in $2 billion in annual cost savings. So the company will be able to expand its profit margins.
With oil prices down recently, the market isn't giving this merger the attention it deserves. But it's great news for investors.
The easiest way to set yourself up to profit is to buy Baker Hughes before the deal closes in the second half of next year.
Shares of Baker Hughes have jumped more than 25% since rumors of the deal surfaced earlier this month. But they are still well below the merger value.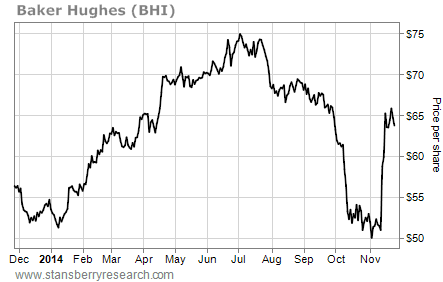 Baker Hughes investors will receive 1.12 Halliburton shares and $19 in cash when the deal closes. With Halliburton trading around $50, shareholders would receive around $75 in value ($50 times 1.12 plus $19). But Baker Hughes shares are trading for just around $65 today. Shares would need to rise 15% to reach the deal value.
The price gap likely factors in the risk of falling oil prices. Shares of Halliburton and Baker Hughes have tumbled with the oil price over the past few months. Before the buyout offer, Baker Hughes shares were down 29% since oil peaked on June 12. Halliburton shares were down 25%.
I recommend buying Baker Hughes before the deal closes next year. When it does, shares could easily rally 15%. And in the long term, even higher...
Good investing,
Matt Badiali