There's a massive deficit looming in the copper industry.
And contrarian investors will soon have a chance to make big profits.
Let me explain...
Copper prices took a beating over the last three and a half years.
For example, shares of giant copper producer Southern Copper plummeted 38% from their December 2010 high.
But the selloff might soon be over...
You see, global copper consumption has still increased – if slowly – over the past few years.
Year

2006

2007

2008

2009

2010

2011

2012

2013

Volume*

17.0

18.3

18.1

18.2

19.4

20.3

20.5

20.9

Change

+8%

-1%

+1%

+7%

+5%

+1%

+2%

Source: Statista.com
* in million metric tons

Freeport-McMoRan (NYSE: FCX), the world's second-largest copper producer, expects demand to continue to increase 3%-4% annually over the next five years.
The strong copper consumption forecast is largely dependent on the health of the Chinese economy.
China is the world's largest copper consumer. In 2006, it imported 3.7 million metric tons of raw copper (ore and concentrate). In 2013, it imported a massive 10.1 million metric tons. That's a 173% increase. Through October 2014, China's imports were 9.5 million metric tons. If it continues at that pace for the rest of the year, it should import 11.4 million metric tons by the end of the year... up 13% from last year.
New investment in power networks and demand from rail projects are driving the increase in China's copper consumption. Reuters reports that the country's refined copper demand will increase 6% in 2015. Chile also expects copper demand from China to increase 9% this year.
Based on current economic growth rates, industry analyst Wood Mackenzie reports that we'll need an additional 7.3 million metric tons of annual copper supply by 2024.
Yet the total production of the world's 10 largest copper mines is only 4.5 million metric tons per year.
Mine

Producer

Location

Production as of 2013

(in metric tons)

Escondida

BHP Billiton

Chile

1,100,000

El Teniente

Codelco

Chile

450,000

Antamina

BHP Billiton/Xstrata

Peru

447,000

Grasberg

Freeport

Indonesia

421,818

Los Bronces

Anglo American

Chile

416,300

Los Pelambres

Antofagasta

Chile

405,300

Radomiro Tomic

Codelco

Chile

379,600

Chuquicamata

Codelco

Chile

356,000*

Morenci Plant

Freeport

USA

301,818

Cerro Verde

Freeport

Peru

253,636

Source: Mining-Technology.com
*2012 data

In short, we're about to see a massive deficit in copper.
That's why copper producers have been investing billions to increase their capacity, despite falling profits.
Freeport-McMoRan plans to produce more than 2.2 million metric tons per year by 2015. That's a huge 37% increase from 2012.
But the increase in production and some new giant mines coming online – like Turquoise Hill's massive Oyu Tolgoi mine in Mongolia – likely still won't be enough.
And more demand than supply will drive copper prices higher.
Copper prices are still looking for a bottom today, as you can see in the chart below: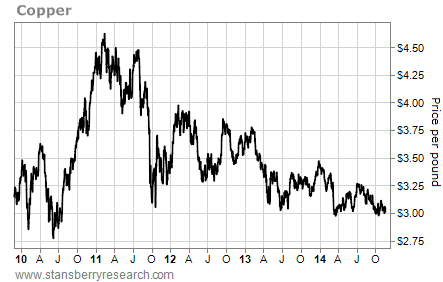 But over the next six to 12 months, once the market realizes we're about to have a shortage of copper, I expect to see the beginning of an uptrend. And once this happens, copper miners are going to soar.
We'll be monitoring the copper trend closely in Growth Stock Wire. And we'll let you know when it's time to buy.
Good investing,
Brian Weepie