It's hard to be bearish on stocks right now.
The stock market almost always rallies this time of year. The Federal Reserve is also supporting the market by virtually guaranteeing to step in on any sign of weakness. And since most other investments are offering minimal returns, investors are almost being forced to buy stocks – pushing the market even higher.
But there's one reason investors should be cautious on stocks today...
Over the past week, junk bonds (corporate debt that is rated lower than investment grade) have fallen.
The stock market and the junk-bond market tend to move in the same direction. It's the classic "risk on/risk off" relationship. When investors are willing to take on risk to seek higher returns, they flock to stocks and high-yield junk bonds. When investors turn conservative and seek to protect capital, they sell stocks and junk bonds.
To see this in action, take a look at this chart of the iShares High Yield Corporate Bond Fund (HYG)...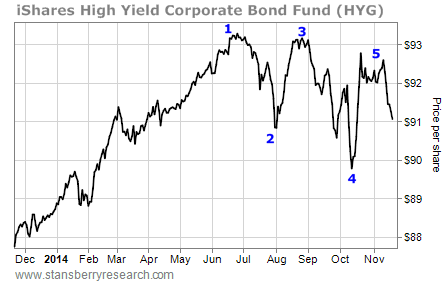 I've numbered the peaks and bottoms that have occurred in this market since around June.
Now, take a look at this chart of the S&P 500...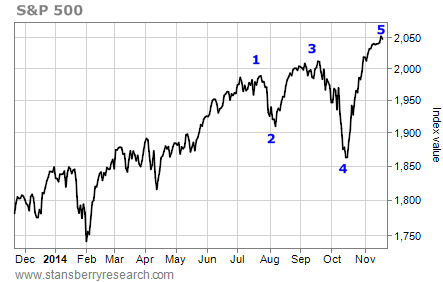 Notice how the peaks on the HYG chart (numbered 1, 3, and 5) happened about two weeks prior to the peaks in the S&P 500 chart.
Now, take a look at these charts again. While the S&P 500 rallied to higher highs after the selloffs in July and October, HYG formed lower highs.
And while the S&P 500 has been rising over the past week, HYG has been falling. HYG's pattern of lower highs suggests its rally off the October lows is now over and it's headed lower.
If the pattern of HYG peaking shortly before the S&P 500 continues to play out, stocks are setting up for a selloff. So investors should be cautious on stocks right now – even during this seasonally bullish time of year.
Best regards and good trading,
Jeff Clark