You're either a contrarian or you're a victim.
That's what master resource investor Rick Rule always says.
In other words, to profit in natural resources, you have to go against the crowd. You have to sell natural resources when everyone else wants them... and buy natural resources when everyone hates them.
And right now, the most hated natural resource in the market is uranium...
If you're a regular
Growth Stock Wire
reader, you're familiar with the uranium story. As my colleague Matt Badiali told you
yesterday
, from 2003 to 2007, uranium saw a huge boom. Prices soared to more than $130 per pound.
But over the next three years, prices dropped. Uranium lost around 70% of its value. And just as uranium started to rally again in 2011, Japan's Fukushima nuclear power plant disaster happened.
Public sentiment toward nuclear power soured. Several countries shut down their nuclear reactors. And uranium prices crashed – falling to just $28 per pound this past May before rebounding to around $36 per pound recently.
But the situation can't last.
Today, it costs an average of $70 per pound to mine uranium. Companies can't make money mining the stuff at $70 per pound and selling it for $36. So at some point, they'll stop mining it. Then the supply of uranium will contract.
Meanwhile... demand is increasing.
Although uranium is the most hated asset on the planet right now, nuclear power is a necessary evil. It generates 20% of the electricity supply in the United States. In France, it accounts for 70%. China and India are increasing demand as well. Japan is already starting to bring more plants back online.
Eventually, the low supply and increasing demand will push uranium prices higher.
That's why buying uranium is the best contrarian trade in the market right now.
Of course, you can't just go out and start stockpiling uranium. And unlike other natural resources, there is no exchange-traded fund (ETF) that tracks the price of uranium. So the only way to trade this natural resource is to buy uranium-mining stocks.
That's a good thing... Uranium stocks will benefit from the favorable supply/demand situation first. And by the look of things, that's starting to happen right now.
Take a look at this chart of Cameco (CCJ), one of the world's largest uranium mining companies...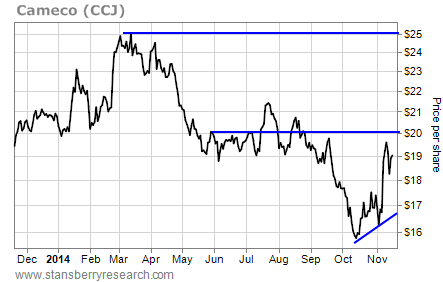 After dropping below $16 per share last month and hitting a new low for the year, CCJ has bounced higher. And it has put together a string of higher lows and higher highs – which is the definition of an uptrend. If CCJ can rally above resistance at $20, it could make a quick trip up to its 2014 high just below $25 per share.
It's still early. But uranium prices are starting to move higher. And uranium stocks are showing some bullish action. In short, the most hated natural resource on the planet looks like an excellent trade from here.
Best regards and good trading,
Jeff Clark