Get ready to buy coal stocks...
Like most natural resources, the coal sector has been clobbered over the past three years. The Market Vectors Coal Fund (KOL) – which holds a basket of global coal stocks – is down 65% since 2011.
You can blame the decline on too much supply, too little demand, and an increased regulatory environment. That has all contributed to the drop in coal prices and the dismal performance of coal stocks.
But the real reason is simpler... It's just the normal boom-and-bust cycle of the natural resource industry.
And this cycle could soon make contrarian traders a lot of money. Let me explain...
Natural resources are cyclical. Their prices move in waves. They go through big booms and busts.
Boom periods can last for years and attract tons of money to the sector – causing prices to boom. That leads to overproduction and malinvestment, which eventually leads to a peak in the boom cycle and the start of the "bust" period.
Bust periods can also last for years. Prices decline. Bad investments get written off. Marginal producers go out of business. Investors give up on the sector.
Boom periods are the party. Bust periods are the hangover.
The best time to buy natural resource stocks is near the end of the hangover. And that's where coal stocks are right now.
Think about this...
Coal sells for about $60 per ton. That's below its cost of production, which is closer to $80 per ton. Coal miners can't sell the stuff at a profit. So investors are dumping the stocks. And the share prices are reflecting the worst of all possible outcomes.
But coal isn't going away. It still provides more of the world's energy supply than any other source. So the current price dilemma is temporary. At some point, supply will fall, demand will increase, prices will come back into line, and coal miners will return to profitability.
Now, KOL is trading 10% below where it was in June. It's even more of a bargain now. And there are two potential "buy" signals setting up.
Take a look at this chart of KOL with its Moving Average Convergence Divergence (MACD) momentum indicator...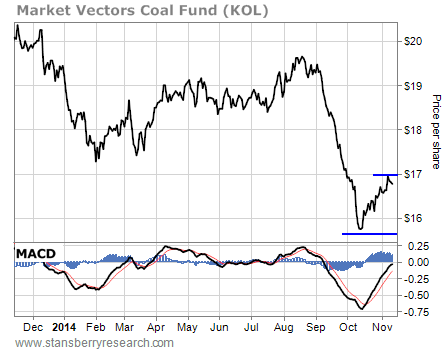 KOL fell hard throughout September and early October. This caused its MACD – a measure of overbought and oversold conditions – to get extremely oversold. But KOL has bounced along with the rest of the stock market over the past three weeks. And it may be setting up for a rally.
Traders looking to buy should wait for one of two signals to happen:

| | |
| --- | --- |
| 1. | KOL to fall back down and make a slightly lower low around $15.50 per share. Because KOL's MACD got so oversold at KOL's lows three weeks ago, it is not likely to fall as low on any additional declines in the stock. This would create positive divergence (KOL making lower lows on the chart while the MACD makes higher lows) – which is often an early sign of an impending rally. This would be an ideal time for bargain hunters to buy. |
| | |
| 2. | KOL to pull back a bit now, form a higher low, and then rally back above $17 per share. We would have the first set of higher highs and higher lows. And that's the definition of an uptrend. Traders will want to hop on board if this happens. |

Keep an eye on the chart of KOL. We'll likely get one of these triggers within the next few weeks. And that's when it will be time to buy.
Best regards and good trading,
Jeff Clark