Energy traders are about to have the chance to make big, quick profits...
As regular readers know, the price of oil has tumbled over the past few months. The benchmark West Texas Intermediate (WTI) crude oil price is down 25% since it peaked in June.
And it has taken shares of oil companies with it. For example, Bakken shale-oil powerhouse Continental Resources is down more than 25%. Eagle Ford producer Sanchez Energy has fallen more than 50%.
But investors haven't just fled oil companies. Nearly every company in the energy sector is down since June... including natural gas producers.
And that's where today's opportunity lies...
As you can see in the table below, many natural gas-focused producers are down double digits since June...
Company

Production
(% Natural Gas)

Decline Since
Mid-June*

Goodrich Petroleum (GDP)

57%

-69%

Comstock Resources (CRK)

60%

-58%

Rex Energy (REXX)

63%

-61%

Stone Energy (SGY)

50%

-51%

Bellatrix Exploration (BXE)

69%

-47%

*Based on Monday's closing price

But this is creating a great opportunity for investors...
You see, the selloff in natural gas stocks is overblown.
Unlike oil, natural gas prices haven't fallen much this year. Take a look at the chart below. While oil is down 25% since its June high, natural gas is only down around 5%.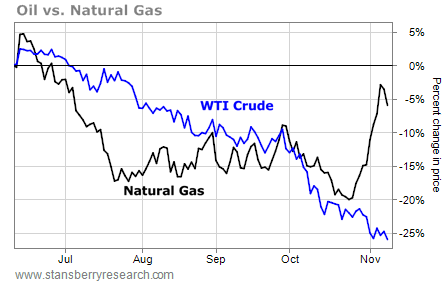 And while we don't know for certain what will happen to oil prices in the near future, natural gas prices should hold steady – and could even increase – in the months ahead.
You see, natural gas is a major fuel source of both heat and electricity. With temperatures dropping, natural gas demand should hold steady or increase as consumers and businesses use gas and electricity to stay warm. News of steady – or increasing – demand could help push natural gas stock prices up big over the next few months.
We're talking about the weather here, so there's no guarantee. But natural gas producers are simply too cheap today.
For example, Comstock Resources and Rex Energy are currently trading near their lowest valuations in five years. And Comstock and Bellatrix Exploration's stock prices would each need to increase more than 65% just to go back to their historical average valuations for the past five years.
So right now, traders have a great opportunity to set themselves up to make a big, quick profit as we head into winter. I recommend adding a natural gas-focused producer like Comstock or Bellatrix to your portfolio today.
Good investing,
Brian Weepie