The dollar and commodities have an inverse relationship... As the dollar goes up, commodity prices generally go down, and vice versa.
The main reason for this relationship is simple: Commodities are priced in dollars. A stronger dollar means it takes fewer dollars to a buy a given commodity. Likewise, when the dollar rises against a basket of foreign currencies, foreign buyers have less buying power.
Take a look at this chart of the dollar versus gold and silver over the past four months...
Even with the massive selloff in gold stocks, is it time to buy? We asked
S&A Resource Report
editor Matt Badiali for his thoughts...
Citing geology expert Brent Cook's presentation at the recent New Orleans Investment Conference, Matt noted that all-in gold production costs for major developers are more than $1,400 an ounce today. Meanwhile, the price of gold is less than $1,200 an ounce. Gold companies are selling every ounce of gold at a large loss... And miners are trying to stop the bleeding by cutting exploration and development costs. Think about that for a minute...
The only way these mining companies make money is by selling gold. Today, they're cutting spending on finding and building new gold deposits. Their shortsightedness today will ensure that when the market finally moves higher, they will have little gold to sell on the upswing. It's the classic
commodities cycle
.
Brazil is getting crushed... And so is one of our favorite short candidates...
For many years, Brazil has been one of the world's most popular emerging markets. It's the largest economy in South America. It has vast resource wealth and tremendous potential growth ahead of it.
That's why Brazil is included in the popular "BRICS" club... which is an acronym that describes the major emerging-market economies of Brazil, Russia, India, China, and South Africa. When investors talk about countries with massive potential in the 21st century, Brazil is always mentioned.
Brazil is heavily dependent on commodities like iron ore, oil, and agriculture, which have been crushed due to a rising dollar and decreasing demand. The selloff is also putting downward pressure on Brazil's economy.
And one stock in particular is selling off harder than most: state-run oil company Petrobras. The $71 billion company operates more like a socialist enterprise than a business.
Longtime readers shouldn't be surprised at our skepticism in investing in companies run by government officials. Our most recent warning came from Editor in Chief Brian Hunt in yesterday's
DailyWealth
essay titled "
A Timeless Lesson on Investing With the Government
"...
The bureaucrats running government agencies are not incentivized to produce profits. They are not incentivized to improve the long-term value of a business. Bureaucrats are incentivized to spend their entire budgets and grow larger. This allows them to acquire more power... and bigger budgets for next year... which allows them to acquire more power and bigger budgets for the year after that.
Compare this to an entrepreneur who has his own money on the line. He's going to do his best to keep costs down, instead of intentionally blowing his budget. He's going to do his best to hire only employees he needs... rather than hire as many people as possible. He's going to keep a close eye on his cash flow or he'll go broke.
Petrobras is sitting on huge oil discoveries... But the oil is far offshore and super-deep. In fact, some of the technologies necessary to extract oil from those levels haven't even been invented yet.
An abundance of deepwater oil means it's expensive (if not impossible) for Petrobras to extract it. The company announced a nearly $240 billion, five-year capital expenditure plan in 2012. Petrobras plans to produce 5.7 million barrels per day by 2020.
Of course, oil being below $80 a barrel today crimps those plans.
Perhaps this is why Petrobras' oil production has flattened out. In 2013, it averaged 2.7 million barrels per day... the same levels it produced three years ago.
We're not the only ones skeptical of Petrobras. Renowned short-selling hedge-fund manager Jim Chanos has been short since 2012. He's skeptical of the company's ability to produce its deepwater oil... And he doubted investors would benefit even when oil went for more than $100 a barrel. (Today, it's around $79 a barrel.)
Meanwhile, Petrobras is generating about $26 billion in cash flow a year... But it's spending $45 billion. So it has to borrow money to cover its $19 billion shortfall.
Porter brought up a similar point at the New Orleans Investment Conference. He presented the following chart, showing Petrobras' mounting debt and falling cash flow.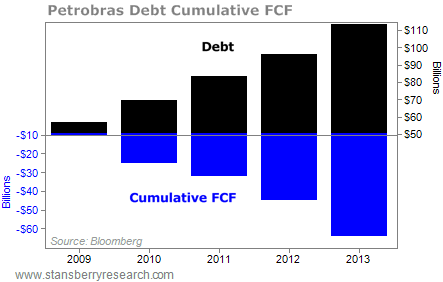 In addition to cash flow problems, Brazil refuses to let Petrobras raise domestic fuel prices in line with world prices. Thanks to the government, gasoline in Brazil sells for close to 25% less than the cost of importing it. That boosts domestic demand, but crushes Petrobras' earnings potential.
Shares of Petrobras were down as much as 16% on Monday. They've fallen more than 40% since the beginning of September.
Regards,
Sean Goldsmith