From June 2009 to June 2014, gaming stocks Las Vegas Sands (LVS) and Wynn Casinos (WYNN) saw explosive growth. They outperformed the S&P 500 by an average of 500% in that time frame.
But in June, they started to break down. With several headwinds facing the industry, I suggested investors take profits and move on. If you followed my advice, you avoided an average loss of 15%.
But now, it's time to jump back into these names. And we could see big gains heading into the end of the year.
Let me explain...
Las Vegas Sands and Wynn are two of the largest gaming stocks with operations in Macau – a small island on the southern coast of China. Macau is the only place in China where gambling is legal... And it's one of the greatest growth stories in the world.
In 2007, the island started to experience unprecedented growth. More and more people traveled to the area... more casinos went up every year... more restaurants and shopping centers opened every month.
I saw this first-hand on my visit to Macau in 2010. (You can read about it
here
and
here
.) There was construction everywhere. Every casino was packed. There were no slot machines or table seats available. As a result, Macau's revenue increased an amazing 225% from 2008 to 2013.
But recently, Macau has seen a major slowdown. Over the past four months, gaming revenue declined from the previous year. This is a big deal. Macau has not seen a monthly decline in revenue since 2009.
Most of the decline in growth is from new regulations and restrictions the Chinese government has put in place to "clean up" Macau.
As I told you in June, the Chinese government is cracking down on illegal activities in Macau – like money laundering.
Chinese law permits visitors from mainland China to bring a limited amount of money ($3,200) to Macau. They can also withdraw an additional $1,600 per day from ATMs. But criminals found a way to beat the system by using mobile card-swiping devices to take out even more cash to buy goods. Then they trade these goods at pawnshops to gain even more currency. This laundering amounted to billions of dollars in extra cash flowing into Macau.
To put a stop to this, the Chinese government has tightened visa requirements, making it more difficult for tourists to visit the area.
The government also banned smoking on casino floors. This is a big deal since many gamblers in Macau smoke. When I visited Macau in 2010, it seemed like 75% of the gamblers were puffing away at the tables.
The new regulations have resulted in fewer people visiting Macau and spending money at casinos.
Las Vegas Sands and Wynn generate a significant amount of their revenue from Macau. With less revenue coming in, investors fled.
Las Vegas Sands and Wynn are down an average of 15% since my June essay. For comparison, the S&P 500 is down just around 5%.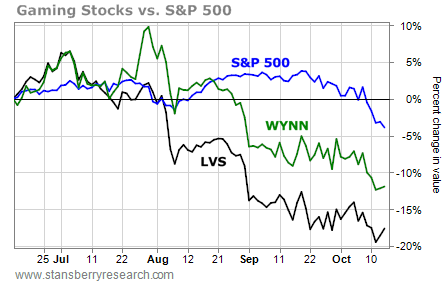 But the weakness in these stocks is likely over...
Many think the Chinese government will start backing down on some of these restrictions and regulations before the end of the year. This makes sense... China receives a generous tax rate of nearly 40% from Macau. So it's in the government's best interest to see Macau booming.
And a mild pullback in these regulations may be enough to stabilize the downturn in Macau and turn things around... resulting in a bounce for shares of Las Vegas Sands and Wynn.
But this isn't the only reason these stocks are likely headed higher...
Las Vegas Sands and Wynn currently have huge yields of 3% and 3.4%, respectively. That's much higher than the 1.9% paid by the average S&P 500 company.
And the companies are continuing to reward shareholders.
Las Vegas Sands just reported earnings on Tuesday. Results were slightly weaker than expected. But shares rose after the company announced it would raise its dividend by 30% and buy back $2 billion of its stock. When a company buys back its shares, fewer shares are available in the open market. So existing shareholders get a slightly bigger portion of earnings.
Wynn reports earnings next week. I expect we'll see similar results. The company will probably report weaker-than-expected earnings. But it will likely look to return capital to shareholders in the form of buybacks and dividends.
In today's volatile market, investors are looking for steady companies with big yields that reward shareholders. (Just take a look at the high-yielding Utilities Select Sector SPDR Fund. It's one of the few funds trading near its 52-week high.) So I expect investors to head back into Las Vegas Sands and Wynn in the months ahead.
In short, Las Vegas Sands and Wynn are setting up for a year-end rally. If the Chinese government backs down on its restrictions, Macau's revenue – and the share prices of Las Vegas Sands and Wynn – will increase. And because these companies offer big yields and are rewarding shareholders, there's limited risk of them falling further. I recommend buying these names today.
Good investing,
Frank Curzio