The Weekend Edition is pulled from the daily S&A Digest. The Digest comes free with a subscription to any of our premium products.
The last time we saw this opportunity, readers made nearly 600% gains in less than a year...
That kind of opportunity only comes around once or twice a decade. We saw it in 2000... We saw it in 2009... And we have that opportunity again today...
Buying these stocks at the right time is one of the surest and most consistent bets in the market. It's one of the only trades you can make where prices essentially have to go up.
When I tell you what we're bullish on today – an opportunity we think can triple your money and pay you huge income – most of you will close this essay in disgust. But that's great. Often, buying the best investments is hard to do... The sector is beaten-up and hated. Most investors have left it for dead (or vowed never to buy it again after suffering huge losses).
But the greatest values and biggest gains are born from these situations. And the handful of investors who have the stomach to purchase can make a fortune... In fact, they're almost guaranteed to make money. Some of the richest people we know (with billion-dollar fortunes) have used this strategy over and over again for decades. It's the classic contrarian setup.
Extreme Value
editor Dan Ferris calls these situations "value destroyers." He explained the idea in the
September 17 DailyWealth
...
Value destroyers are cyclical markets that have fallen dramatically – 50% or more – over a multiyear period. And the market I see the best value in today has been a value-destroying disaster since early 2011...
I'm talking about natural resources... metals, mining, and agricultural products. Gold stocks, coal stocks, uranium, nickel, copper, potash... you name it. It has all been crushed. And that's why this area is one of the market's biggest sources of bargain stocks...
With the markets at all-time highs, natural resource stocks are one of the few values we see in the market. Consider what's going on with the Toronto Venture Exchange – the "Dow Industrials of small resource companies." It's the most widely followed gauge of small-cap precious-metals and energy firms. The following chart shows the struggle in resource stocks... As you can see, the Venture fell 66% from early 2011 to mid-2013...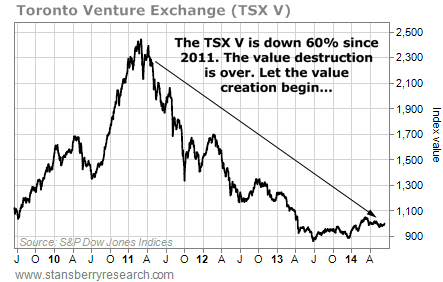 We're not surprised to see resource stocks scraping along the bottom... The industry is inherently cyclical. And if you know how to spot these cycles, you can make huge money.
Resource markets are cyclical for two primary reasons... They're extremely capital-intensive and they're extremely time-intensive. It takes a lot of time and money to produce, mine, and extract resources. It's because of this long timeline (and huge capital expenditures) that big opportunities arise.
When supply and demand imbalances occur, the resource sector isn't able to react as quickly as other markets. This long lag time creates huge price swings... extreme highs and extreme lows you don't see in most other markets.
When demand exceeds supply in most markets, you see a relatively quick reaction from producers to meet the new demand. Compare this to resources like copper or gold... Before you can produce it, you have to go find it and build a mine. The exploration cycle – the pre-development cycle – can take up to 10 years. In the meantime, prices can soar while the market waits for that increased supply.

As Rick explained, on the other side, after supplies come onto the market, prices peak and start to fall. The industry regards its sunk costs as just that... sunk costs. So it's hesitant to slow production, despite high supplies and falling prices...
They'll continue to produce even when prices fall below the level at which they would be profitable. In fact, they'll often produce even below the marginal cost of production for a while in a contest known in the resource industry as "the last man standing."
The reasoning here is that it might cost them more to shut down a project and restart it than it would to continue operating at a loss. And each producer wants to be the first in the game when the cycle turns back around. This drives prices even lower than they otherwise would go. So you have this extraordinary cyclicality as a consequence of the capital and time-intensive nature of the business.
Said another way, the cure for high prices is high prices... And the cure for low prices is low prices.
Today, many resources have low prices. If you missed the major rallies in 2000 and 2009, don't worry... You have another chance today.
As we mentioned above, one of the highest-returning recommendations in Stansberry Research history was a value destroyer.
Resource stocks got crushed in 2008 during the subprime crisis. Beginning in late 2008 and early 2009, they staged a huge and rapid comeback...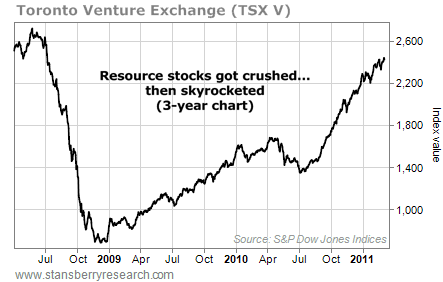 Our in-house resource expert Matt Badiali recommended shares of gold miner ATAC Resources (ATC.V) in the November 2009 issue of
Phase 1 Investor
. It was a tiny mining company with a solid project in Canada's Yukon Territory.
It discovered gold in late 2008, but Matt said the company was still early in the "Discovery Curve"... and it would find lots more gold. Matt was right. ATAC proved it held a valuable asset. It reported positive drilling results, and in July 2010, ATAC announced a huge discovery with grades four to five times the original discovery. As you can see from the chart below, shares soared...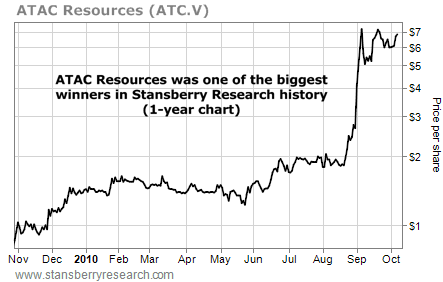 When shares of ATAC took off, it happened fast. We think the sector could take off again at any moment... When our recommended stocks pop 50% or 100% in a month, they won't be nearly as attractive as they are today.
That's why it's so important to buy into the resource sector soon... before stocks take off.
Once again, we have a rare chance to buy some of the world's best resource companies at depressed prices.
Commodities are down across the board. According to precious-metals firm Kitco, silver and gold are down 66% and 38%, respectively, from their peaks. Mining-research firm InfoMine reports that uranium, coal, and copper are down 74%, 63%, and 31%, respectively, from their peaks.
As a result, resource stocks have taken a hit.
And in Extreme Value, Dan is preparing his subscribers for the eventual turnaround. Dan has recommended a handful of excellent resource companies you can buy today at bargain prices... Today, four of the six remain in buy range.
But Dan is touting one company above all others... He says this stock is so safe and cheap, it's one of five companies he'd put in a "set it and forget it" portfolio right now.
To give you an idea of how solid Dan believes this tiny resource stock is, some of the other companies in the "set it and forget it" portfolio are $40 billion payroll processor Automatic Data Processing (ADP) and $17 billion booze giant Constellation Brands (STZ).
Dan calls this investment "by far one of the best opportunities in the natural resource sector I've seen in my entire career." It profits from a handful of different commodities, like gold, uranium, coal, and potash... In other words, its fate isn't tied to the price of a single commodity.
And the company's earnings (and share price) are about to soar...
It recently completed a deal that will pay huge royalties in the future... Dan says the deal will boost its revenue 10-fold. And he is 100% certain the company will start paying a "substantial" dividend in the next couple years... He thinks it will be a double-digit yield based on today's share price.
Considering today's yield-starved market, once word gets out that this natural-resources firm is paying a huge dividend, shares will skyrocket.
As we explained, the stock is a great value today... But we think it could jump 50% higher any day now. And we won't feel comfortable recommending this investment at such an elevated price (though we do believe the upside is much greater than 50%).
If you're looking for a diversified way to invest in the beaten-down commodity space and purchase a stock before it starts paying out a huge dividend (which by itself will send shares soaring higher), we recommend you look further into this idea.
Again, this is only the third time since 2000 where we've had such a great entry point into commodities. We hope you don't miss out. To learn more about
Extreme Value
– and Dan's top recommendation –
click here
.
Regards,
Sean Goldsmith