The machines are coming...
Last month, I attended the International Conference on Intelligent Robots and Systems (IROS) in Chicago.
IROS is one of the largest robotics conferences in the world. Each year, some of the world's biggest companies and smartest academics come together to show off their latest innovations in robotics.
I saw robots that can work underwater – mapping underwater surfaces... Some that can work on assembly lines... and others have such a light touch they can pick up an egg.
I was even able to place my hands inside the eight-foot-tall and five-foot-wide da Vinci Surgical System – a robotic platform that allows surgeons to perform minimally invasive major surgeries.
In short, companies are working on building robots that can take over many of the tasks involved in our daily lives.
And "The New Machine Age" is much closer than you realize...
Many still see robots as futuristic technology. But the trend is already here.
For the past few years, we've been able to buy robots that can vacuum our houses (Roomba), wash our windows (Winbot and Windoro), clean our barbecue grills (Grillbot), and take care of the gunk in our aquariums (RoboSnail).
This corner of the market is already worth more than $1 billion in annual sales.
Meanwhile, companies can buy robots that work in factories. The "Baxter" robot, which retails for $25,000, has arms and hands to move objects around or place them into boxes.
Even more impressive, Baxter "learns" by demonstration instead of programming. In other words, a human coworker can show Baxter what do to (take objects off an assembly line, for example), and it will repeat the procedure.
You can watch a video of Baxter in action here
.
According to consulting firm Transparency Market Research, the industrial robotics market will grow to $44.5 billion by 2020. That's up from $28 billion today – a 57% increase.
But these robots are just the beginning...
Companies all over the world are spending boatloads of money to develop robots that can do everything from helping in disaster recovery to delivering packages.
At this year's IROC, Microsoft talked about its software that will power moving robots through the Xbox Kinect motion sensor. These robots can fetch drinks or snacks for their owners.
Meanwhile, robotics company Clearpath Robotics had its "Husky" robot on display. Husky can go into dangerous situations like gas leaks and make repairs.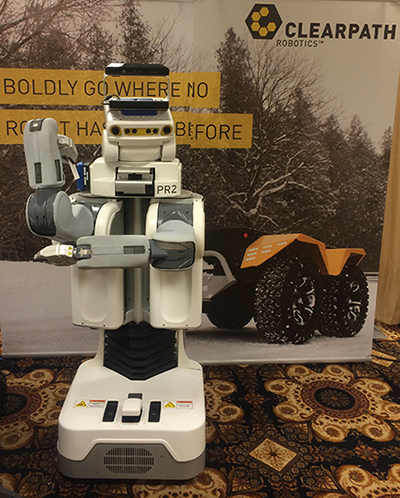 And QB Robotics showed off its robotic torso called the QB Mate. The QB Mate is part of a kit that lets anyone build their own robot.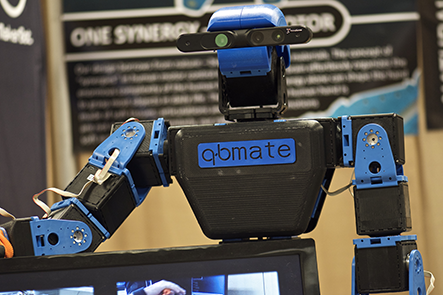 Big name tech and retail companies are also getting into this space. Apple is developing a robot that can produce products. And Amazon is spending tons of money on developing robots that can deliver packages.
Google has even formed its own robotics division. The tech giant recently went on a spending spree, buying up eight key players in the space. The companies make everything from four-legged robots that can run almost 30mph in rough terrain to robots that can be sent to disaster areas – like the ones that were sent to help clean up the Fukushima nuclear disaster in Japan in 2011.
Analysts estimate Google paid between $50 million and $100 million for all of these companies.
I expect even more money to flow into the industry over the next few years as robotics technology becomes more advanced and companies find new uses for it. Wall Street will make sure this big trend is publicized. There's already a robotics-focused exchange-traded fund (ETF) out there. Its name is the Global Robotics & Automation Index Fund (ROBO). Its holdings include Intuitive Surgical, which makes the da Vinci Surgical System, and iRobot, which makes the Roomba and robots used by the military.
I suggest keeping an eye on this industry. The New Machine Age is a massive trend that reaches into a ton of different areas. It's only going to get bigger in the coming months and years.
Good investing,
Debra Borchardt