The stock market sold off hard on Thursday.
Investor sentiment turned sour... The financial talking heads became bearish... And financial analysts preached caution – saying it was the start of the elusive correction we've been waiting for.
On Friday, stocks bounced... proving the pessimists wrong.
But Thursday's pullback was enough to trigger a short-term warning sign in the stock market...
On Thursday, Intel (INTC) started breaking down.
That's what we saw happen in April and August.
In April and August, the S&P 500 broke below its 50-day moving average (DMA). Most technical analysts view the 50-DMA as the "line in the sand" separating intermediate-term uptrends from intermediate-term downtrends. So when an asset is trading above the 50-DMA, it's bullish. When it's trading below the 50-DMA, it's bearish.
But even though the S&P 500 was below its 50-DMA, Intel was holding above its 50-DMA. This gave traders a strong clue that the market weakness would be short lived... And it was. Stocks bounced following the drop in mid-April, and the market rallied off of oversold conditions in August.
On the other hand, when Intel shares fall, the stock market falls as well.
In January, the S&P 500 pulled back... and Intel broke below its 50-DMA. This told traders we were in for a more-significant correction. And the market suffered its worst decline of the year – a 5.4% selloff.
Today, we're seeing a similar setup. Take a look at this chart of Intel...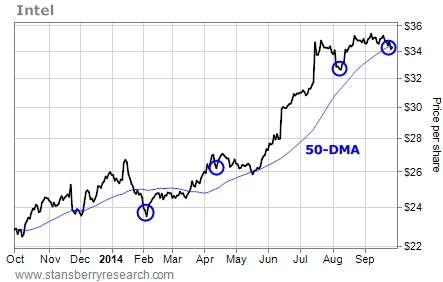 Intel sold off along with the broad stock market last Thursday. It's now trading below its 50-DMA.
It's important to note I'm not bearish on Intel. It's a fine company and a market leader that will recover. My only concern is how Intel's current setup shows there's likely more downside ahead for the stock market in the short term. The market may pull back a little more than 5% like it did in January. Or we may be on the cusp of an even stronger correction.
Either way, Intel is giving us a warning. Traders should be cautious until Intel can get decisively back above its 50-DMA.
Best regards and good trading,
Jeff Clark