The Weekend Edition is pulled from the daily S&A Digest. The Digest comes free with a subscription to any of our premium products.
Porter isn't the only Stansberry & Associates editor concerned with the potential for a market correction...
We've had this discussion in these pages many times... But today, we're covering the upcoming market correction from a different perspective. First, a quick review...
The stock market is at all-time highs. We haven't had a correction of 10%-plus in close to three years. We haven't seen a 20%-plus correction in more than five years. The market's consistent march higher has lulled investors into complacency. The Volatility Index ("VIX") – the market's fear gauge – is sitting below 14. That's up from July but well off the post-crisis highs of 80.
And the market remains calm, despite the crushing amount of debt in the world, growing wealth disparity, and massive geopolitical issues.
There's no doubt the world is in "risk on" mode... And most S&A analysts agree that we're nearing the final inning or two of this rally. Today, investors who require a minimum return (like pension funds or retirees) are forced to play the game.
Taking inflation into consideration, investors can expect returns of around zero (or negative) in Treasurys, money markets, and other ultra-safe investments. That has caused money to flow into riskier assets (like stocks and high-yield bonds). As these risky assets have increased in value with little volatility, market participants have become "fat and happy."
But the smartest investors – those who have been around for a market cycle or two – know
this is the time to worry
.
As billionaire investor Howard Marks, founder of Oaktree Capital, wrote
in his latest memo
...
While investor behavior hasn't sunk to the depths seen just before the crisis (and, in my opinion, that contributed greatly to it), in many ways it has entered the zone of imprudence. To borrow a metaphor from Chuck Prince, Citigroup's CEO from 2003 to 2007, anyone who's totally unwilling to dance to today's fast-paced music can find it challenging to put money to work.
It's the job of investors to strike a proper balance between offense and defense, and between worrying about losing money and worrying about missing opportunity.
Today I feel it's important to pay more attention to loss prevention than to the pursuit of gain
.
It's worth noting that on July 1, 2007, former Citigroup CEO Chuck Prince told the
Financial Times
that the market rally would end at some point... But he believed that due to the huge amount of liquidity in the world, the bubbling issues in the U.S. subprime market wouldn't disrupt things.
In his now-infamous statement, Prince told the Financial Times...
When the music stops, in terms of liquidity, things will be complicated. But as long as the music is playing, you've got to get up and dance. We're still dancing.
The S&P 500 peaked three months later.
Following Marks' line of thinking, you need to understand what's happening today... And you need to understand why we might see a sudden market correction.
We aren't saying the market will plunge next week... But if you're not prepared for the possibility, it could be bad news for your portfolio.
Typically, we cover the macro reasons we'll see a correction (like absurd valuations, government debt, falling consumer demand, etc.). Today, we'll look at it from a different angle... We're sharing
S&A Short Report
editor Jeff Clark's technical analysis on the market.
Let me first say that I am bearish on the U.S. stock market. I think it's expensive. It's under the influence of the Fed's artificially low interest rates. It's manipulated. And, when the game finally ends, it's going to end badly.
But here's the thing...
Corrections and big declines in stock prices usually don't happen when everybody is looking for them.
Think about the small 3% pullback we got in April, and the 5% drop that happened in August. It seemed that as soon as stock prices started to fall, many analysts turned bearish. The media's talking heads put aside their bubbly personalities to report the gloomy financial news. And investors rushed to sell stocks short.
And while there are lots of indicators showing a potential pullback in stocks, Jeff isn't biting just yet...
For the most part, these warning signs indicate vulnerability. They tell investors to be cautious, protect profits, and to trim their portfolios a bit just in case stocks take a quick tumble. They don't signal a major trend change from a bull market to a bear market. But the end of this bull market is close... probably a few months away.
In the meantime, Jeff is watching several areas of the market for potential trades. One possible setup he found is shorting the U.S. dollar. As he told
S&A Short Report
subscribers last week...
The greenback has enjoyed a blistering run higher over the past couple months. The chart has gone parabolic (straight up), and these sorts of moves almost always end badly. Most of the technical indicators on the dollar are more overbought now than they have been at any time in the past decade. So the dollar is ripe for a reversal.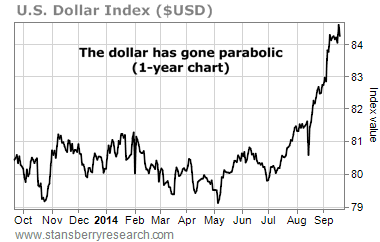 Along with a falling U.S. dollar, Jeff is bullish on gold and silver today. In an update to
S&A Short Report
subscribers this week, Jeff noted Wednesday's down move for gold stocks... and explained why they aren't likely to stay this oversold for long.
As we've repeated many times... We're in the midst of a bull market. But we know it won't last forever. You need to prepare yourself for the upcoming downturn by following your trailing stops and staying conservative.
Investors who buy blindly into these bull markets will get crushed on the way down. We want you to know the potential risks that lie ahead... and how to profit from them.
That's why Jeff just hosted a free webinar, "How to Prepare and Profit from the Upcoming Crisis." He told viewers why he thinks we're close to a correction... and how to position themselves to profit when things turn down. He also discussed which indicators he watches to signal a bear market and what those indicators are saying today.
If you missed the webinar, don't worry... you still have time to position your portfolio for the correction. For a limited time, Jeff is offering the details of his remarkable prediction... And exactly how he plans to play it...
right here
. I highly encourage you to see what Jeff has to say.
Regards,
Sean Goldsmith