Two million barrels per day.
Five years ago, that number sounded like a pipe dream. But soon, it will become an extraordinary reality.
Two million barrels per day is an incredible production level for an oil region. It's world-class. And it's the amount of crude oil and condensate Texas' Eagle Ford shale field could be producing in 2020.
It's just another example of how America's oil production is surging... and it's giving investors an amazing opportunity...
Regular
Growth Stock Wire
readers are familiar with the Eagle Ford. It's a huge shale formation rich in oil and gas that begins near the Mexican border and sweeps 400 miles northeast almost to Houston, Texas.
Oil producer Petrohawk drilled the first Eagle Ford wells in 2008. The results were so promising that global resource giant BHP Billiton acquired Petrohawk in 2011 for more than $12 billion – a 61% premium to Petrohawk's average stock price over the prior 20 trading days. For comparison, the average premium of big energy deals at the time was just 25%.
The deal marked the first major confirmation of the promise of the Eagle Ford. And since then, major oil producers like Anadarko, Apache Corporation, EOG Resources, and Pioneer Natural Resources have grabbed up land in the area.
In 2009, there were only 40 producing oil leases in the Eagle Ford. In 2013, there were 2,521 – a more than 60-fold increase.
Meanwhile, the Eagle Ford's oil production has increased from just 50,000 barrels of oil per day in 2009 to nearly 1.6 million barrels of oil per day today, according to the Energy Information Administration (EIA).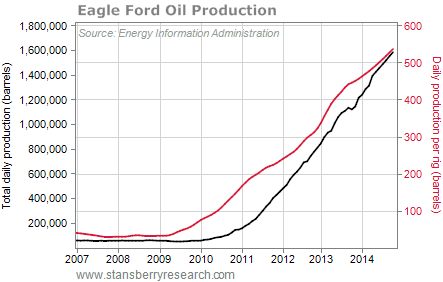 All this new oil has increased earnings for the biggest shale producers and created big profits for investors. Take Pioneer, for example. The company was one of the first into the Eagle Ford.
Pioneer shares are up more than 135% since January 2011. But there's more upside for producers like Pioneer ahead.
You see, production in the Eagle Ford is still growing.
Well-known energy analyst Wood Mackenzie predicts the Eagle Ford will produce 2 million barrels of crude oil and condensates per day by 2020. That would make the Eagle Ford's production half that of Ghawar, the world's largest onshore oilfield in Saudi Arabia. This was unimaginable back in 2008 when Petrohawk was drilling its first wells in the area.
So there's still plenty of upside potential for producers in the Eagle Ford. And today, we have a great opportunity to buy some of the top names at a discount.
You see, the price of oil has taken a breather lately as the U.S. dollar has strengthened. Since the beginning of June, the dollar is up 6%. Meanwhile, West Texas Intermediate crude oil is down 10% over the same time frame. That means many oil producers' stock prices have also taken a breather. So we can buy quality shale producers for reasonable prices right now...
A few of my favorites are Anadarko (APC), S&A Resource Report holding Apache Corporation (APA), EOG Resources (EOG), and Pioneer Natural Resources (PXD). These companies own large areas of land in the Eagle Ford. They'll be some of the big beneficiaries as the price of oil resumes its uptrend... And they're in the perfect position to profit from the future growth of the U.S. shale-oil boom.
Good investing,
Brian Weepie