It's one of the biggest disputes in the market...
Folks who do fundamental analysis figure folks who do technical analysis might as well use tea leaves to make investing decisions. Folks who do technical analysis point out the fundamental analysts can be right about a company's value... and still lose huge amounts of money.
Then there's sentiment analysis: Die-hards in both camps call it too "touchy feely."
Me? I don't take sides.
I like to say we're "mercenaries" in my trading service, DailyWealth Trader. We go wherever the market will pay us. And when I'm looking for a good trade, I use all three types of analysis. They all have something to offer...
| | |
| --- | --- |
| • | Technical analysis is the study of past market prices and trading volume. It will keep you trading with the market, rather than against it. |
| • | Fundamental analysis is the study of business quality and value. It will help you pinpoint great businesses at great prices... and avoid bad businesses at inflated prices. |
| • | Sentiment analysis is the study of the opinions of market participants. You can use it to make sure you're not standing with the crowd just as it's about to get dumped overboard. |

Today, I'm going to show you how the market looks through all three "lenses"... and how that's dictating our trading strategy.
If you're a longtime Growth Stock Wire reader, you're familiar with Jeff Clark's brand of technical analysis. Jeff looks at lots of different indicators that can give readers an idea of what to expect from a market, sector, or stock... And he draws on more than three decades of experience to guide his views.
But when you look at a long-term chart of the benchmark S&P 500 Index, it couldn't be simpler.
It's in an uptrend – a series of higher highs and higher lows. As I told you last week,
we mind the overall trend
. With the market moving higher, most of our trades will be on the "long" side – the bullish side.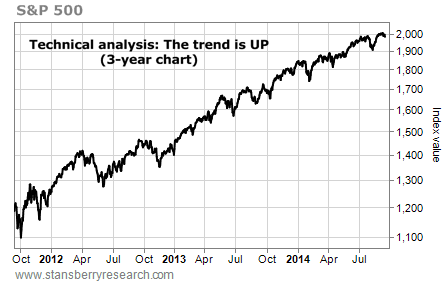 On the fundamental side, there are a lot of ways to measure whether the market is trading at a good price... or an inflated price.
But one of the best-reasoned arguments I've heard comes from my colleague and mentor Steve Sjuggerud, who writes the excellent
True Wealth
newsletter.
At the recent S&A Conference Series event in Los Angeles, Steve explained his view... "I'm sure you've heard a lot of talk about how stocks are expensive," Steve told the audience. "But in our office, we think very rationally about this... And we think stocks are particularly cheap."
His
True Wealth
Value Indicator is simple... It's based on just two metrics: the price-to-earnings ratio and short-term interest rates. (You can get full details in
this free essay
.) And it works...
When the indicator is in "expensive" territory, the average one-year return is slightly negative (-0.2%). When the indicator is in "cheap" territory, the average one-year return is more than 12%.
And right now, stocks are well below the "expensive" line. It's still a good time to buy.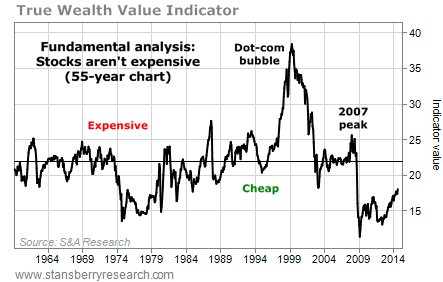 What about sentiment? Again, you can find a sentiment indicator to confirm just about any belief you hold about stocks... The challenge is to find one that works without triggering a lot of "garbage" signals.
In Los Angeles, my boss Porter Stansberry introduced the S&A Complacency Composite Indicator. (The indicator was actually made by Steve's True Wealth analysts, Brett Eversole and Rick Crawford.)
It has accurately signaled seven of the nine stock market corrections over the past 25 years. And the average lead time was only five months before a substantial correction. (Of the two market corrections the indicator missed, one was after the 2002 bottom when stocks bounced off their low and then fell back near that low.)
Also, unlike many other indicators, the Complacency Composite Indicator doesn't give false signals. Of the seven times it issued a warning, all but one led to corrections of 10% or more beginning within 12 months. And the one that didn't led to an 8.4% correction.
"What the model tells us is when conditions are euphoric," Porter explained... "When the market has reached a period of unsustainable euphoria, you can bet there's going to be a correction." (You can find a list of the "ingredients" that go into the indicator in
this recent issue of the S&A Digest
.)
As you can see, the indicator isn't in "euphoric" territory. Investors aren't overly optimistic about the market. Bullish traders aren't standing with the crowd.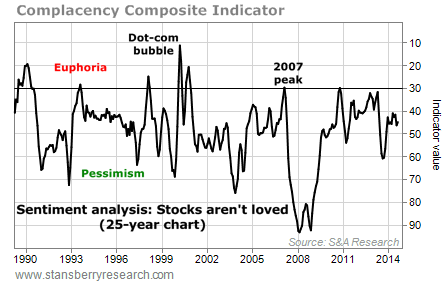 In sum, the trend is in our favor... stocks aren't overly expensive... and the crowd hasn't gotten dangerously bullish. According to our three "lenses," the smart bet is on the market moving higher.
I'll be watching these indicators... and I'll let you know when they change. For now, though, we'll stick with a bullish strategy. That's where the market is paying the biggest, safest money.
Good trading,
Amber Lee Mason