In short, each new Permian well is yielding 65% more oil than it was three years ago – thanks to new technologies like fracking and horizontal drilling, which allow us to tap directly into the incredible reserves in shale. And this soaring production shows no signs of stopping.
But as longtime readers know, the shale boom isn't just about oil. We're seeing a huge increase in natural gas production, too.
Especially in the Marcellus Shale...
The Marcellus Shale is the biggest natural gas shale play in the world. It extends through the Appalachian Mountains, Pennsylvania and West Virginia, southeast Ohio, and upstate New York. This shale region alone can produce the gas needs of seven nearby states.
Daily production there is now more than 15 billion cubic feet (Bcfpd), up from two Bcfpd in 2010. This is an astounding 650% gain in four years.
And the drilling technology just keeps getting better. At the beginning of 2012, the Marcellus had more than 140 active drilling rigs. Over the past year, the rig count has dropped to less than 100. Despite this, production rates keep moving higher.
As you can see in the chart below, gas production per rig is up more than 150% over the past two and a half years, while rig count has remained roughly stable.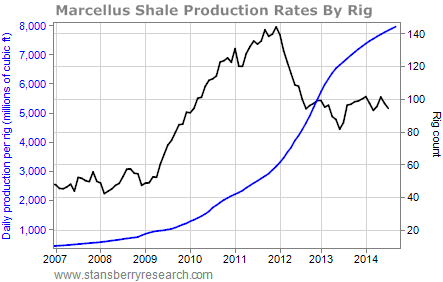 Energy consultant Wood Mackenzie estimates Marcellus gas production will surpass 20 Bcfpd by 2020. This is nearly 25% of the total U.S. gas supply. The growth trajectory supports that estimate... And it may happen even sooner.
Marcellus wells also continue to produce (or "flow") at high rates. Research firm Morningstar reports the median shale well in the Marcellus produces at an unheard-of 100% of its initial flow rate for the first six months. An average gas well in Louisiana's Haynesville Shale sees a 50% drop in production over the same period.
Today, Marcellus producers face one problem... There's too much gas to transport. The huge surge in production has overwhelmed companies' ability to get it to the customer.
The need for more takeaway capacity has led to a large backlog of wells in the area... about 1,300 Marcellus wells await completion. That's a "good problem" to have.
But the capacity issue has also forced Marcellus producers to accept a lower price for their gas – up to a 37% discount below the benchmark price. This has already pushed down share prices of some area companies.
This setback, however, is temporary... Pipeline companies are already working to get more gas from the field. Pipeline capacity increased by 2.3 Bcfpd in 2013. And another 2.9 Bcfpd should come online this year.
The Marcellus has seen phenomenal production growth. And the efficiency of its production has allowed it to maintain that growth, even with lower gas prices. Right now, we're monitoring a handful of companies that should surge along with the Marcellus' transport capacity. And we'll let you know when it's time to buy.
Good investing,
Brian Weepie