The Weekend Edition is pulled from the daily S&A Digest. The Digest comes free with a subscription to any of our premium products.
Did you miss out on the big stock rally of the past few years?
Don't worry... a similar rally is on the way.
I (Brian Hunt) will tell you where this rally will take place in a moment. But first, we need to cover a little history...
Since the stock market bottomed in early 2009,
True Wealth
editor Steve Sjuggerud has been one of the loudest bulls in our industry... and he has helped his subscribers make huge money in stocks and real estate.
Regular readers are familiar with Steve's "
Bernanke Asset Bubble
" thesis. In an attempt to stimulate our struggling economy, the Federal Reserve (led by former chief Ben Bernanke) has injected trillions of dollars of credit into the system.
While the Fed's "E-Z Credit" program hasn't produced strong economic growth, it has produced a big rally in stock prices. The benchmark S&P 500 stock index is up 71% in the past three years.
One of Steve's top ways to invest in the Bernanke Asset Bubble – a leveraged health care fund – is up 298%. Another leveraged fund Steve recommended is up 134%. His recommendation of private-equity firm Blackstone Group (which directly benefits from the Fed's stimulus) is up 166%... and now pays True Wealth subscribers an incredible 16.3% yield on their original purchase price.
The "Bernanke Asset Bubble" has been extremely profitable good for Steve's readers.
In January, Steve urged readers to take advantage of the coming "Draghi Asset Bubble."
Mario Draghi is one of the most important men most people have never heard of. He's the head of the European Central Bank. This makes him the equivalent of Ben Bernanke (who was recently replaced by Janet Yellen) for all of Europe.
In December 2013, Draghi told the world he would follow Bernanke's lead... and keep interest rates low for "an extended period of time." This is central banker speak for "We're turning the fiscal pumps on... and we won't turn them off for at least several years."
Bernanke promised interest rates would stay low for a very long time. The result was a huge rally in stock prices... a recovering housing market... and an improving economy. Draghi is determined to get the same result in Europe.
This presents investors with a major opportunity to profit from rising European asset prices... similar to the bull market we had with U.S. stocks in 2011. As Steve told True Wealth subscribers in January...
The "Draghi Asset Bubble" – the sequel to the Bernanke Asset Bubble – starts now. The starting ingredients in Europe are the same as they were in the States: a sluggish economy, dirt-cheap stock prices, and most importantly, a central bank dead set on pumping up asset prices (like stocks and real estate). It's free money, my friend... Take it!
Although Draghi made his comments last year, the European economy isn't improving. That's why Draghi is making big news right now. At a recent conference, Draghi remarked that more stimulus could be on the way for Europe.
Remember, Draghi is desperate to get the same result Bernanke got with his stimulus. Draghi doesn't want a recession or a depression to happen on his watch. And he's willing to make monetary policy incredibly lax... which will pump up stock and real estate prices.
Draghi's comments have sent the European monetary union's currency (the euro) to its lowest level in nearly a year. Draghi's words are also boosting European stocks. Major European markets are up more than 2% today. We expect them to keep running higher.
Steve says asset bubbles won't just occur in the U.S. and Europe. These economies are so large and so important that their stimulus gets "exported" all over the world.
For example, Hong Kong, which is a special region of China, keeps its monetary policy linked to U.S. Federal Reserve policy. As Steve described in
this DailyWealth essay
, when U.S. monetary policy is loose, Hong Kong asset prices soar.
As you can see from the chart below, Hong Kong's stock market is responding as Steve expected it to. Hong Kong's benchmark stock index just shot to a new multiyear high...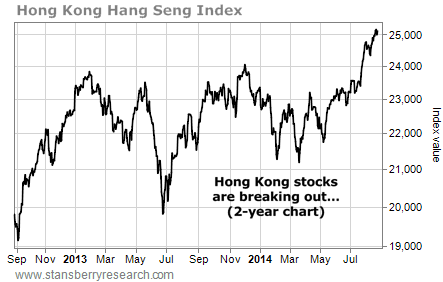 As I pointed out, Steve's readers have literally made hundreds-of-percent gains from his research.
Steve's analysis of central bank policies and their effects on asset prices is so accurate, we should call his service the "How Central Banks Can Help You Get Rich Report."
Some of the world's most influential people are now using True Wealth as a sort of "playbook" to invest in today's world of central bank manipulation. The massive "E-Z Credit" policies are causing extraordinary moves in stocks, real estate, and gold. True Wealth is becoming the most trusted guide to knowing what will happen to these assets... before everyone else does.
We believe the current central bank policies will eventually be very painful for most people. But they can be very, very profitable if you know what their results will be. True Wealth is the ultimate guide for knowing how they will play out... and the moves you can make to protect yourself and profit (including the best, safest ways to make a lot of money in Europe and Hong Kong).
Right now, we're making an extraordinary offer for people interested in these ideas.
We've arranged for you to receive a great new book by Jim Rickards, who is one of the smartest financial guys in America today.
Rickards' book details exactly what has happened to our country's finances, and what's in store for us next.
We liked this new book so much, we purchased a large quantity of copies from his publisher... and we would like to send a free hardback version right to your front door. All we ask is for you to pay $4.95 to cover the shipping.
We also commissioned Jim to write the "missing chapter" for his new book. This "missing chapter" details the exact investments Rickards recommends you make right now to prepare for what he believes are huge changes coming to America and our financial system. These happen to be VERY similar ideas to the ones Steve covers in True Wealth. This "missing chapter" is not available anywhere else on the Internet or in any bookstore.
It details the exact investments Rickards recommends you make right now to prepare for what he believes are huge changes coming to America and our financial system. These happen to be VERY similar ideas to the ones Steve covers in True Wealth. This missing chapter is worth as much or more than the book (which retails for about $20 everywhere else online).
Between Jim's book and Steve's monthly True Wealth issues, readers get a complete "playbook" on how to handle the current environment of massive central bank manipulation.
What will government intervention mean for stocks, bonds, real estate, commodities, and precious metals? What should you own? What should you avoid? And when will the moves take place? You'll get all of these answers in this set of materials.
This might be the most important financial information you read over the next five years... and you can claim your copy of the book free of charge.
To make sure as many people as possible are armed with this information, we're making an incredible money-back guarantee offer, which you can learn about
right here
. (This does not go to a long promotional video.)
Regards,
Brian Hunt