No matter what you hear in the mainstream news, China isn't slowing down.
It's still the world's fastest-growing large economy... the "workshop of the world"... and a voracious consumer of commodities.
And that's good news for commodity investors...
As longtime Growth Stock Wire readers know, China is a major player in the commodities sector. It's the world's largest importer of vital raw materials like iron ore and copper. It's also the world's largest oil importer.
So when its demand for these materials picks up, it's bullish for the commodities sector. For example, China's emergence as a major economic power helped drive the big bull market in commodities from 2002 to 2008.
Because China is such a major driver of commodity demand, it's vital for us to monitor what's going on there.
One way to do that is by studying its car sales. You see, it takes steel, rubber, copper, palladium, platinum, aluminum, oil, and many other commodities to build and operate cars in the country. The more Chinese cars produced and sold, the stronger the commodities market becomes.
For the past few years, China's car sales have increased every year... keeping China's consumption – and demand – of commodities strong.
But recently, many mainstream news outlets reported that Chinese car sales are cooling off – causing many to worry that China's commodities demand will decrease.
In June, Chinese passenger vehicle sales only rose 11.5% from the same month the prior year, down from May's 13.9% growth. And in July, sales only rose 9.7% from July 2013.
It's true that year-over-year Chinese passenger vehicle sales growth was down in June and July. But this doesn't tell you the whole story...
Take a look at this chart of Chinese passenger vehicle sales from January 2007 to July 2014...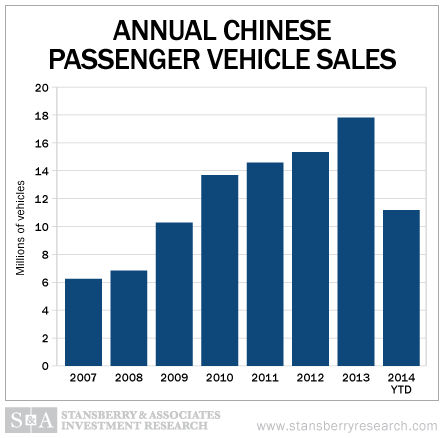 As you can see, Chinese car sales have risen every year since 2007... That's despite several down months.
You see, over the past 96 months, China has sold more passenger cars than the month prior 87 times. The down months didn't represent a trend then... and this past June and July don't now.
11 million Chinese cars have been sold so far this year. This time last year, just 9.9 million Chinese cars had been sold. So even with the slowdown in June and July, China is still on pace to sell more cars this year than last year.
And I expect Chinese car sales to continue to increase each year going forward. As my colleague Matt Badiali told
DailyWealth
readers earlier this year,
China loves cars
. And the country has a lot of catching up to do.
In 2012, there was about one car for every 85 people in China. In America, the ratio was 0.9 cars per person. In other words, we have nearly as many cars as people. So the Chinese automobile market has a lot of growth left.
And an increase in Chinese car sales means more demand for commodities used to make and operate cars – like iron ore (used to make steel), rubber (used to make tires), platinum and palladium (used to make
catalytic converters that reduce pollution
), and crude oil (used to make gasoline).
Make no mistake, China isn't slowing down. The facts say the long-term trend in Chinese passenger car sales is up... And that's bullish for commodities.
Good investing,
Brian Weepie