One of the biggest themes we're seeing right now is what we call the "disappearing middle class."
As regular readers know, the Federal Reserve's easy monetary policies help the rich (those with assets). They're able to borrow money cheaply and buy high-quality assets that rise in time with inflation (like real estate, farmland, and operating companies).
The average price of ground beef at grocery stores is up 76% since 2009 to $3.81 a pound.
Pork chop prices were up 12.7% in May from a year ago. Fresh fruit and oranges are up 7.3% and 17.1%, respectively, over the same time frame.
The U.S. Department of Agriculture predicts food prices will rise between 2.5% and 3.5% this year after a 1.4% increase in 2013.
Plus, more than 35% of Americans have debts and unpaid bills that have been reported to a debt collector, according to a new study by social and economic research firm The Urban Institute.
Collection agencies go after all types of debt... credit cards, mortgages, phone bills... even parking tickets.
"Roughly, every third person you pass on the street is going to have debt in collections," said Urban Institute senior fellow Caroline Ratcliffe. "It can tip employers' hiring decisions, or whether or not you get that apartment."
And the average debt reported to collections is $5,178, based on September 2013 records.
The funny thing is, credit-card debt as a
percentage
is actually declining... According to the American Bankers Association, it's at its lowest level in a decade. And only 2.4% of credit-card accounts are overdue by 30 days or more, compared with the 15-year average of 3.8%.
Still, a similar number of folks are being turned into collection agencies for bad debts... why?
"There is not the income growth to save and they have to make survival decisions," Eric Salazar, manager for credit-counseling agency Greenpath, told Yahoo. "You make the decision to pay for the roof over your head and to feed your family and that's all you can afford to do."
A high percentage of people in western and southern states – like Texas, Las Vegas, and Florida – have delinquent debt. In other words, while living expenses are rising across the board, wages are stagnant...
Bill Bonner, founder of S&A's parent company, Agora, is watching the same trend.
Longtime readers will recognize Bill's name. He's among our favorite writers on history, politics, and economics.
After 35 years in the industry, Bill is finally writing his own monthly newsletter. He just released the first two "beta" issues this week. Here's what he wrote:
Everyone beneath the top 20% of household incomes has lost ground for the last 14 years. The middle quintile – where there are about as many people better off as worse off – has real household income equal to what it had a quarter of a century ago.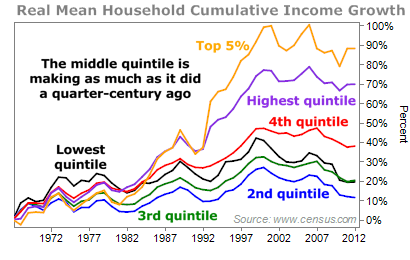 Incomes are flat or falling. Expenses are rising. What can they do? According to the evidence, they fill the gap with debt. That has been the modus operandi for the last 30 years.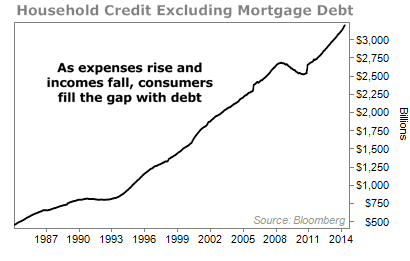 The Fed is feeding this. Every time "demand" slacks off, the Fed appears with more credit.
The idea of creating and enhancing "demand" with new money is hardly new. It is by far the easiest way to simulate demand growth. You print money (or otherwise boost credit).
The economy takes up the new purchasing power and confuses it with real demand. Sales go up. Prices rise.
A boom follows.
But it is a fool's boom. Jean-Baptiste Say explained why more than 100 years ago. "Say's Law" tells us that real demand can only come from production, not from printing money or expanding credit.
Bill and his publishers are still working out the details for his new letter. It's not for sale anywhere. But there is one way to get your hands on it... and on Bill's just-published book.
No one has ever published a book like this before. I'll let Porter share the details...
My friend and business partner Bill Bonner is one of the most remarkable men in America today.
He'll be the first to admit he's not a great businessman. Or a very good investor. And he's probably an even worse manager.
Yet despite these "flaws," Bill is one of the richest men in America – worth nearly $1 billion.
He owns nine houses... hundreds of thousands of acres of land... and has business operations in 18 countries. He's a New York Times bestselling author... and was named a European "Honorary Ambassador" for his work.
Not many people know that, without Bill Bonner, Stansberry & Associates wouldn't exist. And I almost certainly wouldn't be nearly as successful.
Not only did Bill help me launch my company... He also taught me an incredible secret.
It's a way of seeing things... A kind of wisdom that's far beyond what others teach... what others even understand. And it has made him, his partners, and many of his employees – and basically anyone who listens to him – rich.
For years, I've been telling Bill to share this big idea with everyone... And he has finally done it. It's in his latest, just-published book.
Please understand... Bill's unique philosophy isn't merely about money. But it will allow you to understand the markets – and every other type of human endeavor – in a whole new, and vastly more accurate, way.
This idea completely changed the course of my life.
If you want to be a better investor, you must read this book. If you want to be a better parent... a better spouse... a smarter consumer... a better businessman, a better manager... read this book.
Like I said, Bill's secret is about much more than making money...
| | |
| --- | --- |
| • | It's a secret that helped me find an incredible wife years ago – and also helped me find other important people in my life, including my business partners, and people who manage my various assets. |
| | |
| --- | --- |
| • | This secret also helped me build one of the biggest financial-publishing businesses in the world – using an approach that no one else in the industry had ever tried. |
| | |
| --- | --- |
| • | Because of this secret, I've been invited backstage at rock concerts... gotten to meet my lifelong heroes like T. Boone Pickens... (and soon, Laird Hamilton)... Have had great investment deals and ideas essentially handed to me... Have been a guest at some of the most exclusive clubs in the world, including August National, the Dallas Petroleum Club, and Nassau's One and Only Club... and more. |
Of course, I'm not the only one who has benefited from this secret.
Bill's unique take on the world has helped dozens of people I know personally become millionaires. And now Bill is sharing his secret in a brand-new book.
Please note: This book is not yet available on Amazon or anywhere else. And when it does go on sale on Amazon, you'll only be able to get a paperback version at first.
But I figured out a way for you to get a hardback copy, plus a huge special bonus: Access to Bill's new monthly newsletter, published by Bonner & Partners.
No, I'm not giving this book away. It's not part of any free offer or anything like that. You have to buy it with your own money.
But I promise you, it's worth much, much more than the small price you have to pay.
To see my full summary of Bill Bonner's brand-new book, and to get your own hardback copy, plus something from Bill that might be even more valuable than this new book,
go here
.
Regards,
S&A Research