By Jeff Clark
Tuesday, July 29, 2014
Chinese stocks are breaking out... But you won't see it mentioned in the mainstream press.
The Shanghai Stock Exchange Composite Index (the "SSEC") – China's version of the Dow Jones Industrial Average – rallied last Thursday... and broke a five-year consolidating-triangle pattern to the upside. This suggests Chinese stocks are about to rally.
And early investors could make double-digit gains over the next few months...
Take a look at this long-term chart of the SSEC...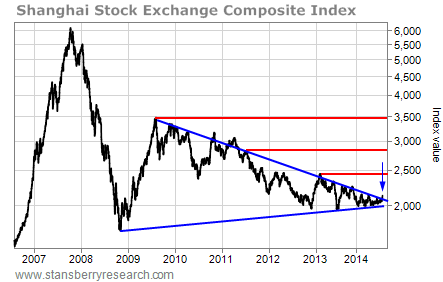 The SSEC has been stuck in a bear market for the past six years. It's down more than 60% from its peak in 2007. But on Thursday, the index broke out of a five-year consolidating-triangle pattern.
This is such a long, drawn-out pattern that you can barely see the breakout on the eight-year chart. But there's no mistaking it on the one-year chart...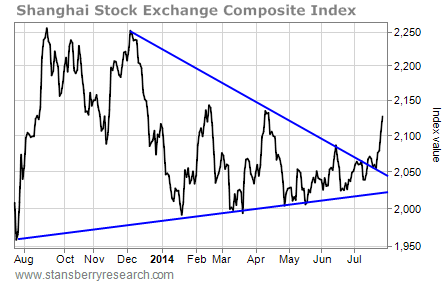 I'm not looking for those types of gains this time around. But at the very least, the SSEC should be able to hit some of the overhead resistance lines on the long-term chart.
The first target is at about 2,500. If the SSEC can rally above that first resistance level, the next upside targets are 2,900 and 3,500. Based on current levels, investors could see gains of anywhere between 38% and 67% in the next few months.
It has been a long time since traders have had a chance to
make money buying Chinese stocks
. But we have a good opportunity right now. Last week's breakout from the consolidating-triangle pattern signals a major change in trend. And early investors could make double-digit profits in the next few months.
Now is the time to buy Chinese stocks.
Best regards and good trading,
Jeff Clark
Further Reading:
"Places like China, Greece, and Russia aren't the most savory places to invest today," Steve Sjuggerud writes. But "if you don't at least have these beaten-down emerging markets on your radar, you're making a mistake. They're the best value in the world today." Get all the details
here
.
When things get "bad" for an asset, most people can't stand the idea of owning it. So you'll often see extreme negative sentiment before a "bad to less bad" rally. Steve has been using this idea for years to spot low-risk, high-reward investment opportunities. Learn how to profit using investor sentiment
in this interview with Steve
.
Monday, July 28, 2014

As Expected, "Big Cheap Tech" Soars
By Amber Lee Mason
With piles of cash, their dominant positions in vital, growing industries, and in many cases above-average dividends, these stocks have offered traders some of the safest, easiest money in the market...



Saturday, July 26, 2014

Weekend Edition : A huge dividend opportunity for income-starved investors
By Sean Goldsmith
Shares of consumer-products giant Apple were up nearly 3% after announcing earnings Tuesday.



Friday, July 25, 2014

How to Get One of My Favorite Resource Stocks on Sale
By Frank Curzio
Steel stocks are soaring. And we're about to have the opportunity to buy my favorite name for a discount.


A bullish sign for
mining stocks
... Rio Tinto and Vale break out to three-month highs.
Europe's stock uptrend is looking shaky... big European stock fund FEZ sinks to a four-month low.
Small-cap dividend-payers
are quietly booming...
RPM International
soars 81% over the past two years.
Health care providers keep soaring... WellPoint and Humana surge 35%-plus over the past six months.
Symbol
Price

Change

52-Wk
Symbol
Price

Change

52-Wk
Symbol
Price

Change

52-Wk