Steel stocks are soaring.
In
February
, we had another chance to buy on a pullback.
Since my essay, steelmakers AK Steel (AKS), U.S. Steel (X), and Steel Dynamics (STLD) are up an average of 27%.
These stocks look set to soar even higher.
And we're about to have the opportunity to buy my favorite name for a discount.
Let me explain...
After a huge run up last year, steel stocks reversed course in February.
U.S. manufacturing activity had eased in January, which was likely due to extreme weather conditions the month before. And emerging markets like China, Brazil, and Russia were slowing. That means there was less demand for cars, houses, and construction – the biggest end markets for steel – in these countries. Many steel stocks pulled back.
This gave us a huge opportunity.
As I explained then, while emerging markets around the world might be slowing, developed markets are growing. So demand for steel will remain strong. Plus, steel prices are predicted to rise at least 3% annually over the next few years.
I said these trends would bode well for steel stocks in the years ahead. Since my essay, steelmakers have started to benefit from rising new car sales... surging home prices... and increasing construction for homes and buildings.
My favorite name in the sector, Steel Dynamics, is up 35% since February... and around 17% this week alone. You can see this in the chart below.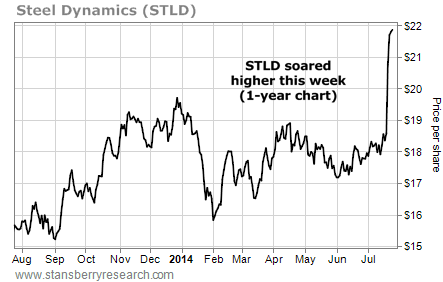 Why is Steel Dynamics up so much this week?
On Monday, the company announced it will buy a U.S.-based steel plant from Russian steel manufacturer Severstal.
This is a game-changing deal for Steel Dynamics. The company will pay $1.63 billion for Severstal Columbus, located in northeastern Mississippi. The new plant will increase the amount of steel that Steel Dynamics ships every year by 40%, to 11 million tons. The company expects the deal to add to its earnings immediately.
This has been great news for shareholders. And there's more upside ahead...
As I said, the Severstal deal is a game changer for Steel Dynamics.
When I recommended Steel Dynamics in February, it was mostly an income stock (it yields 2.5%) with little growth. Shares traded for 11 times forward earnings. Today, shares are trading around 13 times forward earnings. This is still a significant discount to the average S&P 500 company trading at 18 times earnings.
But now that Steel Dynamics will be able to drastically increase production to meet stronger demand, this multiple will likely trade more in-line with the S&P 500. So we could see shares rise another 38% from current levels (from a 13 multiple to an 18 multiple).
You see, with shares up 22% in recent weeks, I expect Steel Dynamics to raise cash through a secondary offering over the next month.
A secondary stock offering is when a public company offers new stock for public sale. This type of transaction gets a bad rap among investors. You see, after a secondary offering, shares outstanding are increased. That means existing shares get diluted.
But this would be a smart move for Steel Dynamics. It can use the cash it raises to grow operations and pay down its $2 billion in debt.
If I'm right about the offering, shares could pull back to the $18 level before heading to $30 within the next 12 to 18 months. I suggest using any pullback as an opportunity to get into Steel Dynamics.
Good investing,
Frank Curzio