Wednesday was a huge day for
Extreme Value
editor Dan Ferris and his World Dominator portfolio...
First, two World Dominators announced a partnership...
Apple, the consumer-technology giant, signed a deal with IBM, the world's largest IT-services firm and second-largest software company after Microsoft, to help sell Apple products to more businesses.
IBM's massive sales force will now push Apple products to its thousands of business clients.
We asked Dan for his comments on the deal...
This deal will help people get over their perception of IBM as a "has been" company...
Remember Apple's 1984 commercial? That was basically a giant dig at IBM, though Steve Jobs claimed otherwise (maybe because he thought he might be doing business with them someday). Now Apple generates more free cash flow than any nonfinancial company in the world. So it's making a deal with whom? IBM...
It'll likely stay that way for longer than the shorts will like it, the same way Intel has remained on top and continued gushing free cash flow and even making money from its position atop roughly 80% of the microprocessor market. I saw a 100-page short thesis on Intel last fall. That was obviously a bad bet, as Intel has seriously outperformed the S&P 500 since then.
Shares of IBM rose nearly 2% on the news. Apple rose about 1% to an all-time high.
Still... IBM remains a popular short sale with hedge-fund managers. But Dan thinks it's a bad trade...
I've continued recommending IBM because it's going to continue gushing cash flow after a decades-long transformation away from lower-margin commodity businesses (like selling PCs) and toward higher-margin/higher-value businesses (like software).
Apple is proving once again that IBM's relationships with about 2,000 of the world's largest corporations are extremely valuable. It is also proving IBM's massive and constantly growing (mostly software) IP catalog is a huge asset. IBM is loaded with software-engineering talent, the way Intel is loaded with chip-engineering talent.
IBM has had slower sales for several quarters in a row, a fact often cited by shorts. I remember folks made the same complaint about Wal-Mart when the stock was in the low $50s. Then it got over it, and the stock ran to the low $80s.
Speaking of Intel... the world's largest PC chipmaker announced blowout earnings earlier this week...
Second-quarter revenues were $13.8 billion, up 8.0% from last year. Earnings soared 39.8% to $2.8 billion on strength in the business PC division. And the company's gross margin rose to 64.5% from 59.6%. Intel also forecasted third-quarter revenue of $14.4 billion, about 7% higher than in the third quarter of last year.
In addition to the strong earnings, Intel added $20 billion to its share-repurchase program. The company plans to repurchase $4 billion of shares this quarter alone (a little more than 2% of shares). Since October 2005, Intel has purchased nearly $45 billion of its own shares. That program expired, hence the $20 billion in additional buybacks.
Since the repurchase program began in 1990, Intel has bought back 4.5 billion shares for $94 billion.
Share buybacks are one of the beauties of buying World Dominators. These companies can raise prices to stay ahead of inflation. And they gush free cash flow – cash they can use to buy back shares and pay growing dividends.
Intel jumped nearly 10% on the news.
Extreme Value
readers are up 147% since Dan's April 2009 recommendation... And they've earned 26.5% since 2009 from Intel's dividend alone.
Extreme Value subscribers who bought on Dan's original recommendation are now earning a 5.9% annual dividend on their initial investment. If you're earning 5.9% with one of the world's best businesses, who cares if the stock market corrects?
That's the power of buying great, dividend-paying businesses at good prices... You can stop caring about the overall market.
Dan also sent an update from
Extreme Value
portfolio holding Sprott Resource Corp., the Canadian resource-investment firm, which announced a big new coal deal...
As you can see in the following chart of the Dow Jones U.S. Coal Index, coal has been crushed in recent years. Coal is dirty power, a big polluter... And low natural gas prices (an alternative to coal) have made the commodity even less attractive.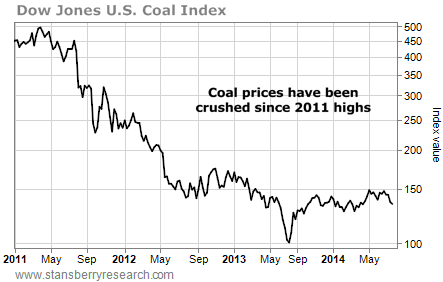 But we think coal could stage a huge rally.
As Porter wrote in the June 2014
Stansberry's Investment Advisory
:
Coal remains the world's leading energy source, and its consumption continues to grow by about 2% annually.
Politicians can (and will) say whatever they like about global warming and reducing emissions. But if they want the lights to stay on, then the coal trains had better run. We view the current divergence between the obvious and critical role coal plays in the global economy and the nearly universally negative outlook people have for it as the single greatest contrarian opportunity today.
So it's no surprise Sprott – which employs some of the smartest resource investors on the planet – is loading up on the hated asset...
In December 2007, Sprott Resource bought 37% of Pennsylvania-based coal miner PBS Coals for $55 million. The company went public the following summer and was bought by the Russian steel and mining firm Severstal in November 2008. The deal valued the entire PBS Coals at more than $800 million.
Now, Sprott Resource is investing $33.4 million into U.S. coal producer Corsa to help finance Corsa's acquisition of PBS Coals... for $60 million. From Dan:
This week, my research analyst Mike Barrett and I had a conference call with the CFO of Sprott Resource, Michael Staresinic, and the incoming CEO of Corsa Coal, George Dethlefsen.
Sprott will wind up owning a fully diluted 17.4% of Corsa, a public company traded on the TSX Venture exchange. Corsa is raising $90 million of equity from Sprott Resource, Quintana (the biggest private holder of U.S. coal reserves), the Lundin family, and the Swiss bank Julius Baer Group. And it's borrowing $25 million in debt from Sprott Resource Lending Corp.
Corsa became the exclusive bidder on PBS a couple months ago, when everyone realized it alone was geographically situated in the Appalachian/Great Lakes region to wring the most cost savings and efficiencies out of PBS.
Corsa is 300-500 miles closer to key customer venues like Pittsburgh and the Lake Ontario and Erie regions, providing a $10- to $15-per-ton logistical cost advantage over its Central Appalachian competitors. The domestic metallurgical coal market is 8-9 million tons per year. Corsa can address 55% of that.
Historically, when 10% of the global met coal supply has become unprofitable due to low met coal prices, coal prices have been at or near the bottom. Well, that 10% out-of-the-money price (roughly $160/ton) is about $40 per ton north of where we are today ($120). This is a deep contrarian moment for coal. Everybody hates it, and one of our favorite small-cap natural resources companies has just found a fantastic way to take advantage of the situation.
While Dan likes Sprott Resource Corp., he said another tiny stock is "by far one of the best opportunities in the natural resource sector I've seen in my entire career."
One reason Dan is so bullish on this stock is because it recently closed a major deal to buy a lot of coal and potash (an important commodity for fertilizer)...
And Dan says this deal will increase this tiny company's revenues 10-fold. And the resulting revenue increase could cause the company's shares to double or triple.
To be clear, this isn't a coal company or a potash company... In fact, it's not even a mining company...
Dan's favorite natural resource company is a royalty company. As longtime readers know, royalty companies are some of the best businesses in the world.
Resource royalty companies basically work like this... Several smart geologists and investors buy up the "royalty rights" to some of the world's most productive and lucrative mines.
But they don't handle any of the production (which is the capital-intensive part of the business). They simply receive royalty payments as resources come out of the ground.
These royalty companies can invest a small amount in various projects and produce huge returns... And the money continues pouring in long after the initial investment.
Ten years ago, for example, Dan's favorite royalty company paid a little less than $14 million for a small royalty on a nickel mine. The company has already received $30 million in royalty income from that investment... The investment has paid $3 million (more than 20% the initial investment) in the past 12 months alone.
That's why Dan says buying royalty companies is "the best way to invest in commodities."
You can see how buying these companies at the right time can produce huge gains... For example, Dan recommended another royalty firm, International Royalty, about five years ago. Investors made 248% gains in less than a year.
But Dan isn't buying the royalty company today just for its coal assets... The company he's recommending now also receives royalties from gold mines, uranium, and platinum, among others.
If you believe the Federal Reserve's money printing will eventually lead to inflation in commodities, this is a great way to get broad exposure.
The story gets better though...
Dan says he's 100% certain this company will start paying a "substantial" dividend at some point in the next couple years... And by substantial, Dan means a double-digit yield based on today's share price.
We don't have any inside information (although Dan probably knows this company better than anyone; he has the CEO's cell-phone number)... Dan just knows how much cash this company is going to earn when its future royalties kick in. And that money is going to flow down to shareholders in the form of a giant dividend.
Think of how starved for income the world is today... When word gets out this tiny resource stock, run by some of the smartest guys in the business, is paying a double-digit dividend... shares will skyrocket.
As Dan said, this is the best natural resource opportunity he has seen in his entire career... The stock is cheap and run by an excellent management team. Plus, it's going to boost its revenue 10-fold and start paying a double-digit dividend. We think early investors can easily double or triple their money (as they did with Dan's International Royalty recommendation).
For more details on this opportunity,
click here
...
Regards,
Sean Goldsmith