Gold's getting interesting again...
Friday, I explained
why I expect the gold price to move higher
... and why it's time to look at buying gold stocks. The thing is, not all "gold stocks" are equal. And you can find plenty of ways to profit on gold outside of the traditional stock market.
So today, I'm going to share my "gold buyer's toolkit." You'll find a list of ways to profit on gold, along with a brief look at their pros and cons.
I can't go into all the nuances of every different asset... But you can get to know a few of your options. And if you're interested in betting on a higher gold price, they're all worth knowing about...
Let's start with the most popular gold trade...
Gold Producers
The big gold producers could be ready to "rip"...
A few of the large U.S.-traded names here are Goldcorp (GG), Barrick Gold (ABX), Newmont Mining (NEM), Yamana Gold (AUY), and Agnico Eagle (AEM). These are all major holdings in the popular gold-mining fund GDX.
But take a look at the chart below... Right now, these stocks are near 20-year lows compared to the gold price.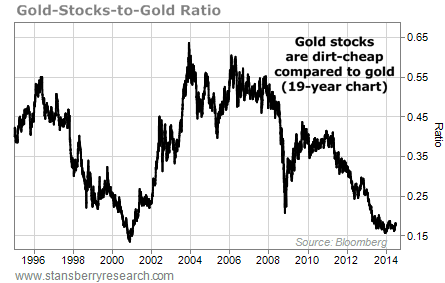 Measured against the metal they're producing, these stocks are dirt-cheap. And if the gold price rises, these stocks could see a massive rally.
Gold Explorers
If gold producers rally, gold explorers could go bonkers.
Unlike gold producers, gold explorers generally don't have an operating mine. They're somewhere on the path from being a stock promoter with a dream to being a team of geologists with some leases and a dream.
They burn cash, dilute their shareholders, and often shut their doors within a few years. But occasionally, they turn out to be "10-baggers." That keeps speculators coming back for more.
And when folks get enthusiastic about gold stocks, they'll send these "junior" gold stocks way up. From the start of 2010 to early 2011, GDX rose 40%. GDXJ – a fund that holds a basket of small and medium-sized gold stocks – rose more than 70%.
These stocks fall harder, too. After the 2010-2011 rally stalled, GDX fell about 65%. GDXJ fell 80%.
Bullion
On the other end of the risk spectrum is real, "hold in your hand" gold bullion...
Some of the most popular one-ounce coins include South African krugerrands, American gold eagles, and Canadian maple leaves. You can expect to pay a little over the current price of gold (maybe 5%) when you're buying and to receive a little under that when you're selling.
This can get costly if you're trading large quantities of gold... But it's actually one of the "pros" of bullion: It's difficult and expensive to buy and sell. So you're less likely to buy it on impulse (when prices are high) and sell it in despair (when prices are low).
Another pro: It's no one else's liability. If cash becomes worthless, the banks close, and the global monetary system collapses... gold will still be gold. And it's likely
gold will still be money
.
But that makes it a liability for you. If you own physical gold, you need to figure out a safe place to store it. (
Read more here
.)
Collectibles
If you're looking for "hold in your hand" gold with a little more upside potential, consider collectibles...
My colleague Steve Sjuggerud has done more work on this idea than anyone I know. He likes the idea of owning "semi-numismatic" gold coins.
These are abundant enough that there's a liquid market for them... but rare enough to have some collectible value. And his favorite is the "Saint-Gaudens," which were minted before 1933. (
Read more here
.)
You can pay anywhere from 7% over the current gold price for beat-up coins to twice the gold price for coins that are in excellent condition. If folks get enthusiastic about collectibles, your upside on these higher-quality coins could be hundreds of percent.
Of course, you run into the same storage problems as you do with regular bullion... Plus, you want to make sure you know what you're doing and you're working with a reputable dealer.
"Paper Gold"
A cheaper, more convenient alternative to physical gold is "paper gold"...
The biggie in this category is the popular gold-tracking fund GLD. I prefer the
Central GoldTrust (GTU)
, which also tracks the gold price... And because it's a "closed end" fund, it occasionally trades at a discount. (
Read more here
.)
GLD and GTU both charge about 0.5% a year in fees. And your broker will charge the regular commission for buying and selling shares.
In terms of safeguarding your assets in a meltdown, these options don't match "hold in your hand" metals. But they're easy ways to profit on a bounce in the gold price.
Royalty Companies
This is the steadier, safer way to add gold-stock exposure to your portfolio... and one of my favorite ways to profit in gold.
The two biggest names in this space are Royal Gold (RGLD) and Franco-Nevada (FNV). These companies don't mine any gold of their own. Instead, they finance lots of early-stage mining projects, then earn royalties on mine production if things work out.
Rather than owning a company focused on one big strike, you own a diversified and growing "portfolio" of claims on lots of different mines. These companies don't have any of the operating risks and expenses of gold mines... But they do give you leverage to the gold price.
So they're volatile... But over the long term, their results look a lot better than the gold miners.
Take a look at the chart below. You can see that gold miners (measured by the "HUI" index) have underperformed gold, while Royal Gold has outperformed.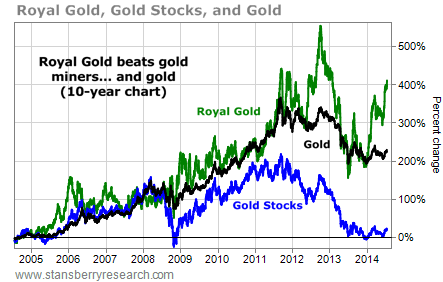 As with gold miners, it has been hard to get the timing right with royalty stocks over the past two years. But if the gold price rises, these stocks could soar.
As I said, I expect gold prices to move higher in the months ahead. If you're thinking about investing in gold, make sure you keep this "toolkit" handy.
Good trading,
Amber Lee Mason