The Market Vectors Gold Miners Fund (GDX) rallied 15% in June. And its nine-day exponential moving average (EMA) had crossed above its 50-day moving average (DMA).
As I said last month, the biggest rallies in the gold-mining sector occur when GDX is trading above both its nine-day EMA and its 50-DMA. And the kickoff point for the rally occurs when the nine-day EMA completes a "bullish cross" above the 50-DMA. So gold stocks were back in rally mode.
But I said it wasn't time to pile into the gold sector yet. GDX was extended too far above its nine-day EMA. There was too much risk of a short-term pullback. I recommended traders wait to add exposure to the sector until GDX pulled back toward its nine-day EMA or consolidated long enough to allow the nine-day EMA to catch up to the current price.
Since my essay, GDX has merely been consolidating its recent gains. The sector hasn't pulled back.
But there's a way to get exposure to the gold sector and offset the short-term downside risk...
Take a look at this updated chart of GDX plotted along with its 50-DMA and nine-day EMA...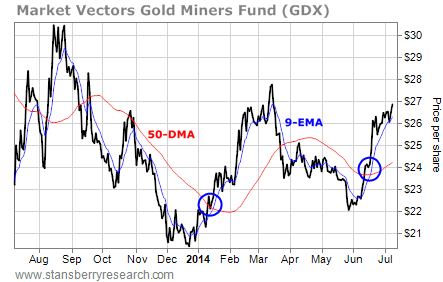 GDX has been consolidating its recent gains over the past two weeks. This allowed its nine-day EMA to catch up to it earlier this week. This is a bullish action. It's similar to what we saw in January before the sector spiked 15% higher in February.
I would still prefer to see GDX pull back toward the $25 level before I recommend piling into the gold sector. But now is a good time to get exposure to gold-mining stocks by selling uncovered-put options. (If you're not familiar with the idea of selling puts, you can learn more about the strategy
here
and
here
.)
Basically, by selling uncovered puts, you get paid just for agreeing to buy a stock at a specified price. If the stock never drops to that price, you never have to buy it... But you still get to keep the money you collected for making the agreement.
If the stock does fall to that price, you'll buy the shares at the price you were willing to pay anyway... and you'll still get to keep the money you collected for making the agreement. So you get a discount on the stock.
This is an ideal strategy for adding exposure to a sector where the intermediate-term trend is bullish, but where the short-term trend may still have some downside risk. The premium you receive upfront for selling the put option allows you to profit if the sector moves higher, and it offsets the short-term downside risk.
I recommend using this strategy to get some exposure to gold stocks right now.
Best regards and good trading,
Jeff Clark