But I wasn't worried about it falling much more.
How could I be so confident in saying the stock wouldn't plummet?
As I said in October, it's because people like income. They like dividends. And they like safety. That's what this small-cap stock – and a handful of others like it – provides.
The stock I told you about in October was Diebold (DBD). Most people have never heard of it. But it's the world's No. 1 supplier of automated teller machines (ATMs). The 155-year-old company has increased its dividend payment every year for 60 years – the longest streak of any company in North America.
But in October, Diebold was down about 15% from its highs after reporting weaker-than-expected earnings two quarters in a row. However, I told you the selloff wouldn't continue much longer... And it didn't. Less than a month later, Diebold rallied. The stock is up more than 30% since my essay, with more upside ahead.
And today, we have a similar setup in another one of my all-time favorite small-cap dividend-paying companies...
Like Diebold, most people have never heard of Brady Corporation (BRC). The company is one of the largest manufacturers of signs, labels, ID cards, and badges. It makes everything from the "high voltage" signs you might find in factories... to the tiny barcode stickers you see on thousands – even millions – of items. If you've ever had to wear an ID or visitor badge – chances are it was made by Brady.
And as long as people need to communicate, there will be demand for signs and labels. Think about it... When you walk up to a store, the first thing you typically notice is the sign on the door with the store's hours. An on-sale item in the store may have multiple stickers on the inside and outside of the box. The more complicated something is, the more likely it has a lot of labels. For example, there are dozens of tiny labels in your car or truck engine.
Brady is a 100-year-old company that generates safe, steady profits for investors. And it has increased its dividend payment every year for 29 years.
But shares fell 30% from August 2013 through May 2014 after the company reported weaker-than-expected earnings results for three quarters in a row.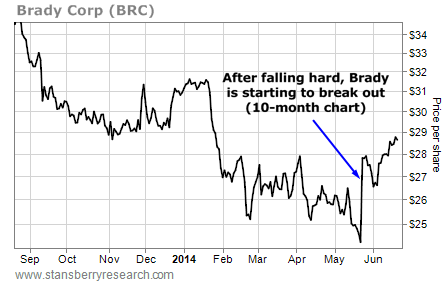 As I mentioned above, we saw a similar setup in Diebold – right before the stock surged higher.
And after reporting solid quarterly results last month, Brady is already starting to break out. But there's more upside ahead.
As I told you in October, with interest rates so low right now, there's a huge demand for safe, steady, dividend-paying stocks. And Brady is one of the best.
The company has been around for a century. So it has seen its share of ups and downs. Management knows exactly what to do when times are rough – like cut costs.
We are already starting to see cost-cutting initiatives hit Brady's bottom line. As I told you earlier, Brady reported solid quarterly results last quarter. I expect that to continue over the next several quarters. If I'm right, we could see a 20%-plus short-term pop in the stock from these depressed levels.
And Brady pays a 2.8% dividend today. That's 65% higher than the average S&P 500 company. Plus, the company is projected to grow earnings faster than large-cap stocks like McDonald's and Coke.
That's why I expect money to pour into Brady, Diebold, and small-cap companies like them in the years ahead.
Like I said, there's huge demand for safe dividend-payers right now. I expect these stocks to draw buying interest for years to come. I recommend buying Brady today.
Good investing,
Frank Curzio