It's a textbook case of "markets working"... And it's making folks who understand "the lesson" big profits.
Back in October, my colleague Brian Hunt and I suggested DailyWealth Trader readers buy shares of America's largest aluminum maker, Alcoa (AA). The day after the recommendation, the stock jumped 8.8%. It hasn't looked back since. It's up a total of 70% since the write-up. And on Friday, it reached a three-year high.
Why did this happen? And if you're not in this trade, why should you care?
Well, this is how "boom and bust" commodity markets work. And if you take this idea to heart, you'll be able to multiply your money many times over in the next commodity boom.
Let me show you what I mean with Alcoa's long-term chart.
We're not doing this to check moving averages or momentum indicators... We can read this story from across the room...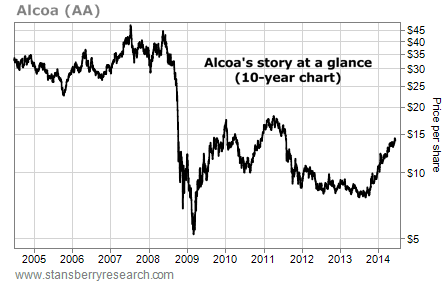 Alcoa shares were crushed in 2008 and 2009. The global economy contracted and folks thought the world was going to end. Reduced demand pushed down aluminum prices... and bad sentiment did the rest. Alcoa dropped from $45 to around $5.
Aluminum prices
recovered from 2009 through 2011. But overproduction from China and a shaky global recovery pushed prices back down. Alcoa followed suit... and busted from $18 to $8.
That's where we were in October last year. But already, the market was at work...
Basic economics says that when prices fall, demand rises. If aluminum is cheap, industries will find more ways to use it. Today, for example, automakers are turning to lighter-weight aluminum over steel. The New York Times reports that carmakers will buy half a million tons of aluminum this year, up from 100,000 tons in 2012.
With global aluminum consumption at about 50 million tons, carmakers don't represent a huge portion of the market... yet. But their demand is expected to grow 30% per year through 2020.
Basic economics also says that when prices fall, supply contracts. If you can't make money selling aluminum, you'll make less of it. Even China, which for years insulated local producers from market forces, is curtailing production. Barron's reports that since 2011, annual production is down 1.2 million tons inside China... And it's down 2 million tons outside of China.
That's about 6% of global aluminum output... and according to Bank of America Merrill Lynch, supply will fall short of demand by more than half a million tons this year... and more than 1 million tons next year.
In short, the cure for low prices is low prices. Reduced supply and increased demand will lead to higher aluminum prices. And an improving global economy will add fuel to the trend.
With its 70% rise since October, Alcoa is already pricing in better sentiment and better economics. The key, as my colleague Steve Sjuggerud likes to point out, is to buy when things still look "bad." You must buy when most people can't stand the thought of buying the asset.
Then you make the big profits as things get "less bad."
In DailyWealth Trader, we used this "tried and true" lesson with Alcoa to make a large profit in a short amount of time.
You'll be able to use this lesson again and again to make even bigger gains in the next commodity boom.
Good trading,
Amber Lee Mason
P.S. So where is the next Alcoa? As I showed you last week,
I think it's uranium
. Like aluminum, the asset busted in 2008 and 2009... recovered a bit in 2011... and then busted again. But eventually, low prices will cure low prices. Supply will contract. Demand will increase. Prices will rise. It's just a matter of time...