I thought it was a typo...
On Wednesday, I was combing through the list of insider buys on major exchanges that is sent to my e-mail every morning.
An insider buy is when a director or executive buys shares of his or her own company. Analysts track insider buys because "insiders" know their companies better than anyone... And they would only buy their companies' stock if they believed it was undervalued and headed higher.
That's why most insider buys happen when a stock falls sharply after a missed earnings quarter or on negative news. Insiders can get a big discount on shares during a short-term pullback.
But one insider buy on the list on Wednesday was different...
Instead of buying a stock that had fallen, one insider bought his company's stock near its all-time high. And it's one of the reasons I recommend buying this company today.
Let me explain...
On Tuesday, Harold Hamm, the founder and CEO of shale-oil giant Continental Resources, purchased $5.7 million of the company's stock when it was trading near its all-time high.
Hamm is one of the smartest men in the oil industry. He has been drilling for oil for more than 40 years, and is ranked by Forbes as the 45th richest person on the planet.
In the late 1990s, Continental – led by Hamm – started accumulating large amounts of property in North Dakota and began experimenting with new drilling techniques to find oil. (Some of the biggest names in the business – like ExxonMobil and ConocoPhillips – were paying no attention to the area or new technology back then.)
Today, Continental is the largest land owner in the Bakken shale.
As longtime Growth Stock Wire readers know, new technologies – like fracking and horizontal drilling – have allowed oil companies to tap into incredible oil and gas reserves in shale areas like the Bakken.
The area produces over one million barrels of oil per day. If North Dakota were a country, it would rank within the top 20 oil-producing nations in the world.
Continental produces about 100,000 (or 10%) of those one million barrels of oil per day. This resulted in roughly $4 billion in revenue for Continental over the past 12 months.
And as you can see in the chart below, the company's stock has been in a long-term uptrend. It's up more than 375% in five years.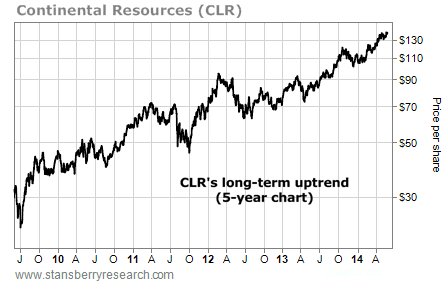 This is why I first thought Hamm's insider buy of Continental was a typo.
Most CEOs look to sell shares in their company's stock when it pushes higher. Yet Hamm, who already owns 70% of the shares outstanding, is adding to his position.
So Hamm, who knows Continental better than anyone, is confident in the company's future and the future of its share price.
To be clear, I am not recommending buying Continental Resources solely because of an insider buy.
You see, despite the incredible run, shares are still cheap, trading at 16 times forward earnings. That's a discount to the average S&P 500 company trading at roughly 18 times earnings.
And Continental is expected to grow its production in the Bakken by roughly 30% next year.
That's an incredible number considering many large-cap international oil companies are having trouble growing their reserves at all.
Plus, the technologies that allow us to drill in shale areas are just a couple of years old. We don't know the limits of shale yet. So there's plenty more upside potential for Continental. This will push its revenues – and share price – higher.
My advice is to follow Harold Hamm and buy shares of Continental Resources. Sure, the stock has had an incredible run. But shares are still cheap and production is expected to surge in the years ahead.
Good investing,
Frank Curzio