Sometimes, the financial markets go nuts.
We can look at the crazy valuations of Internet stocks during the dot-com era and the housing bubble of 2006 as a couple good examples.
But the best case of temporary insanity is what's going on right now in the junk-bond market...
The term "
junk bonds
" refers to corporate debt that is rated lower than investment grade. In other words, these are the bonds that corporations will have a difficult time making payments on when times are tough.
As a result, junk bonds usually pay a much higher interest rate than their investment-grade counterparts to compensate investors for that risk.
But right now, the spread between investment-grade bond yields and junk-bond yields is among the lowest in history. Investors aren't getting paid for the extra risk. And just like what happened following the dot-com and housing busts, investors in junk bonds today are going to get hurt when reality finally sets in.
In a recent presentation, Martin Fridson – one of the leading experts on the corporate bond market – predicted $1.6 trillion in corporate debt will default over the next five years. Folks who are buying junk bonds today, anxious to lock in yields of 5% or less, are risking a 100% loss of principal.
That's a bad bet.
But it's also a bad bet to
short the junk-bond market
right now. Bouts of insanity can hang on a lot longer than most folks think is possible. So even though the rally in junk bonds has reached insane levels, it still has farther to go.
Take a look at this chart of the iShares High Yield Corporate Bond Fund (HYG)...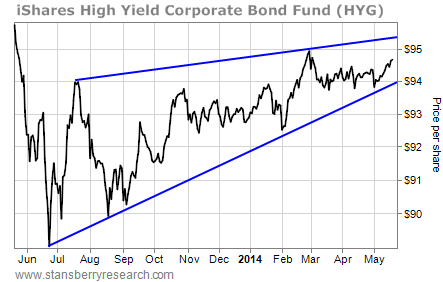 HYG has been in a bearish rising-wedge pattern for most of the past year. This pattern develops as a chart makes higher highs and higher lows, but the distance between the highs and lows shrinks. This is a bearish pattern that most of the time breaks to the downside. And the downside break usually erases 50% to 100% of the previous rally phase.
As you can see from the chart, HYG made a new all-time high on Friday. And there's still room for HYG to work even higher inside of the wedge. So as tempting as it is to try to short junk bonds at the moment, the setup isn't right.
Traders should wait until HYG either rallies up to the resistance line of the wedge – currently at about $95.50 – or breaks below the support line at about $94 (and rising) before shorting the junk-bond market.
Investors who currently
own high-yield bonds
can continue to ride the trend higher. But get out quickly if the support line is broken. That'll be the first sign that reality is setting in and the insane move in junk bonds is over.
Best regards and good trading,
Jeff Clark