You see the marketing claims all the time...
Make 100% in just a few days!
This stock could quadruple in value by November!
Last time around, you could have made five times your money!
If these claims are so ridiculous, why do we write them?
We write them because that's what works. Believe me. It has been tested a thousand times. Making big, brash claims is by far the best way to get investors to try out investment newsletters... including good investment newsletters that offer conservative advice.
And in some cases, the unbelievable happens. In some cases, an investment does increase 100%, 200%, even 500%.
But, as they say in the diet ads, "these results aren't typical." Even if one of your investments doubles overnight, it's unlikely your whole portfolio will.
So what can you realistically hope to make in your investments?
Let's start with the "best case" scenario. Let's see what true investing superstars can do...
| | |
| --- | --- |
| • | Seth Klarman, founder of the Baupost Group, is considered one of the greatest investors of our generation. He has averaged returns of nearly 20% since 1983. |
| | |
| • | Julian Robertson, founder of the famed hedge fund Tiger Management, earned an annualized 32% for nearly two decades. |
| | |
| • | John Templeton is another investing great... His flagship Templeton Growth Fund made an average 13.8% a year for 50 years. |
| | |
| • | Michael Steinhardt, considered one of the greatest hedge-fund managers of all time, generated 24% returns over 28 years. |
| | |
| • | Bruce Berkowitz was named "fund manager of the decade" for 2000-2009. His Fairholme Fund made investors 13.2% over that timeframe. |
| | |
| • | Warren Buffett is probably the biggest name in investing... and for good reason. In his holding company, Berkshire Hathaway, he has increased the book value per share by an average 19.7% a year for nearly 50 years. |

Remember, these are the all-time greats. The vast majority of professional money managers don't even get close to these returns.
So let's say, over a period of at least 10 years, a truly exceptional investor can make 20% a year.
That's not going to "quadruple your money by November." It's certainly not going to get you 100% in a few days. It will make you five times your money... but not for a decade or so.
In short, even great investors can't live up to the most-hyped newsletter claims... not on a full portfolio, not over the long term.
What about regular Joe and Jane Investor? What can they expect?
That's the bad news... And it's really bad news...
On average, individual investors way underperform gold... They way underperform stocks... They way underperform bonds...
Take a look at this chart I adapted from Mebane Faber's book Global Value. He got the data from investment-management giant BlackRock and financial-research firm Dalbar. It shows the average annual returns of a variety of assets over the last 20 years or so...
Way on the losing end, past even inflation, you'll find the average investor's returns.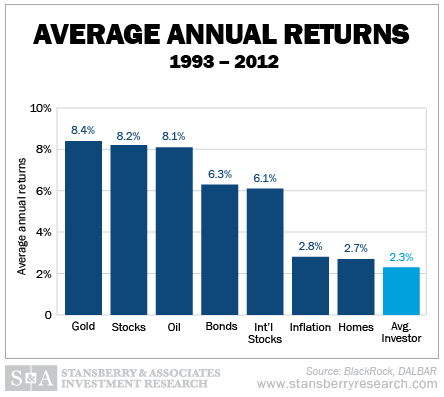 In other words, once you account for inflation, more than half of individual investors have lost money... And that's while stocks, bonds, and commodities like gold and oil did well.
Folks who can master these basics will do far, far better than the average investor. You could expect to make, say, 10% a year over the long term. That's about even with the S&P 500 over the last 50 years, with dividends included.
And if you can master the art of compounding your money by
owning great businesses and holding for the long term
– you can approach "superstar" returns. I wouldn't count on making Buffett's 20% annual profit... He has access to the kinds of deals individual investors never see.
That's truly an extraordinary return. Over 30 years, it will multiply your wealth 87 times over... That's an 8,600% profit, bigger than even the brashest newsletter promotions are likely to promise.
And if you're reading the right newsletters, you're learning how to do exactly that.
Good trading,
Amber Lee Mason