"This is by far my favorite stock in the Eagle Ford," my friend Cactus told me last week.
Cactus Schroeder is one of the smartest men in the oil business. He has been drilling for oil in Texas for more than 30 years... with personal interests in over 1,000 drilling projects.
Every now and then, Cactus shares one of his favorite energy stocks with me. Cactus is not a stock analyst. However, he studies maps every day. Over 500 maps blanket the walls of his central Texas office. They include details about every well that has been drilled in a specific area... how many holes were drilled... how much oil was discovered... and what companies are accumulating property.
In short, Cactus knows what he's talking about. He has made a fortune in the oil business.
The last stock he told me about surged 200% in a little over two years. So when he recommends a company, I pay attention...
Longtime
Growth Stock Wire
readers know the
Eagle Ford Shale
... It's a layer of rock in Southeast Texas that's rich in oil and gas. It's mentioned repeatedly in oil and gas publications and on Bloomberg and CNBC. Share prices of many of the companies drilling for oil there have soared. But there are plenty of more gains ahead.
Over the past few years, Cactus and I have driven hundreds of miles through at least 20 counties in the Eagle Ford looking for investment opportunities.
During a trip in 2011, Cactus told me about one of his favorite companies in the area – Pioneer Natural Resources (PXD). He said it had properties in the "prime spots" in the Eagle Ford – the areas where companies are pulling the most oil out of the ground. Pioneer's wells were gushing oil.
Cactus said the stock was about to run higher. He was dead right.
Pioneer's wells have continued to gush oil, and the share price has soared 200% since Cactus' recommendation.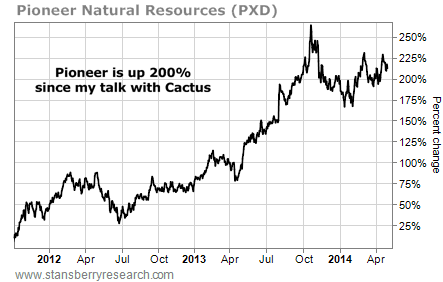 Last week, I caught up with Cactus at our annual S&A Spring Editors Conference in the Bahamas. This is where our analysts and outside experts like Rick Rule, Doug Casey, and Meb Faber share their favorite ideas each year.
At dinner, Cactus told me about his favorite stock in the Eagle Ford today – an oil company called Penn Virginia (PVA).
If you've been reading
Growth Stock Wire
recently, you know
Penn Virginia
is also a favorite of Brian Weepie and Matt Badiali.
Penn Virginia owns 80,000 acres in the Eagle Ford. And most of this acreage is located in Gonzales and Lavaca counties – two prime, booming areas in the massive shale.
As Brian told you a little over two weeks ago, Penn Virginia's
oil production in the Eagle Ford
has grown almost fourfold since 2011. And there are no signs of this growth stopping as the company continues to find more reserves.
As a result, the stock is up 300% in one year.
The fact shares are up so much may scare some investors. Also, Penn Virginia has a large debt position. However, the company has over 1,100 undeveloped drilling locations in prime Eagle Ford counties. That's enough locations for the company to drill for oil for more than 10 years (based on its current rig count). Plus, billionaire investor George Soros, who owns 10% of shares outstanding, is calling for a sale of Penn Virginia to boost its value. This would push shares even higher. So Penn Virginia still has huge upside potential.
I recommend jumping into this stock on a pullback.
And on May 12, we might get one. That's when the company will report earnings. With shares trading at 26 times earnings, expectations are high. That means any disappointment could result in a pullback. The market is not kind in the short term to growth stocks that miss earnings estimates. If this happens, it will create a great buying opportunity.
Good investing,
Frank Curzio