For the first time in about three years, investors began to panic... a little.
Given the record-high level of margin debt, the absurd valuations of many tech stocks, and the near-record premium in high-yield corporate bonds, I would be shocked if the selling in stocks doesn't continue.
As I have said many times, I expect
a major correction in stock prices this year
, with many stocks falling by 50% (based on their earnings multiples). Most of the major indexes (the Nasdaq Composite, the S&P 500, and the Dow Jones Industrial Average) are only now reflecting this trend. But we saw what was happening earlier because of a special index we built.
We built our "S&A Black List Index" by combining the stock prices of companies on our "Black List." This index shows you the combined performance of the stocks whose total outstanding shares were worth more than $10 billion in market cap and trade for more than 10 times their annual sales at the end of March. We know from experience that it's difficult for huge businesses to earn high enough returns on capital to justify such a rich valuation.
Keep in mind, we don't recommend using our Black List as a source of short-selling ideas. These are merely companies whose share prices we believe are too expensive to be purchased safely. While we expect their stock prices to disappoint long-term investors... trying to short valuation (overpriced stocks of great companies) can be a
terrible
strategy. The market can remain bullish for far longer than anyone believes is likely.
In fact, these are exactly the stocks that a real bull market is likely to push higher... far higher than the average stock. These are the stocks that people love.
As such, the performance of these particular stocks is a great "bull market litmus test." As long as these stocks rallied – irrespective of their inflated valuations – it was a pretty good bet that the bull market would continue. Looking at the chart, you can see the massive bull market that developed from 2012 and through 2013. Likewise, you can see these stocks seemed to have "rolled over" in 2014...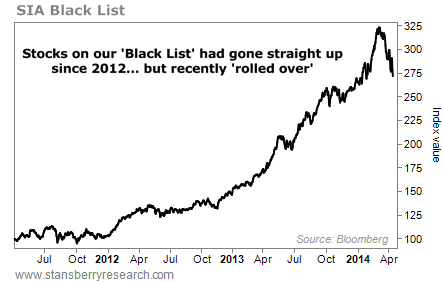 If these stocks continue to fall, we'll likely see a major correction in stock prices across the broader market, too. The individual stocks in this index are: social-media firms Facebook, Twitter, LinkedIn, and TripAdvisor; credit-card companies Visa and MasterCard; biotech firms Biogen, Illumina, and Vertex; Chinese Internet companies Baidu and Qihoo 360; pharmaceutical firms Regeneron and Alexion; REITs Public Storage, Prologis, and Avalon Bay; electric-car maker Tesla; cloud-computing firm Workday; pipeline companies Spectra Energy, Cheniere Energy, and Western Gas; and real-estate firm American Realty.
Of course... these aren't the only overvalued or dangerous stocks on the market right now. At the start of the year, not a single Wall Street analyst had a "sell" rating on Internet retailer Amazon. As I noted in the January 10
Digest
, the stock was grossly overpriced, trading for 20 times book value and
150 times earnings
.
There isn't an honest or responsible way to recommend buying a company this large at these huge multiples
.
I gave the warnings I felt were appropriate. I've been doing much the same in regards to corporate bonds and the bubble that's forming in auto finance, too.
I've reproduced a few of my key warnings from earlier this year below. For accuracy I've only used direct quotes. These are the
exact
words I've written since the beginning of this year.
I want to urge you to read these warnings again. There's no such thing as teaching. You'll have to think about what I'm saying and why. I believe it's very likely that many of you (or perhaps
most
of you) have ignored my warnings about stock prices so far. After all, just about everyone else (including a few S&A analysts) has predicted that the stock boom would continue. Whether you agree with me or not, at the very least, you should understand the risks to owning stocks right now...
Friday, January 10: Nasdaq Composite Index: 4,174. Amazon.com: $400 a share. Black List Index: 269.
A lot of the commentators on the scene today – including several of the analysts we employ here at Stansberry & Associates Investment Research – are bullish on the stock market.
As you may recall, I am not. I believe that securities prices at some point in the near future will suffer a serious correction. Prices will fall (in terms of earnings multiples) by nearly 50%...
Do you think a private company that's valued at almost $200 billion can really increase in value by 50% in a single year? Do you think that any private business – which must face constant competitive pressures – is really worth 56 years of operating cash flows or 150 years of earnings? No business in history has ever deserved to be worth this much... and certainly not an Internet retailer. Retailing is an absurdly tough business. It's akin to business suicide.
Amazon – the most dominant Internet retailer in the world by a huge margin – produces a return on equity of only 1.5%. And yet investors are paying 20 times book value (today) to own this stock. I doubt those investors are going to do well over the long term...
From what I see... the selloff in bonds has already begun. Meanwhile, many stocks are trading at crazy prices already – truly insane levels. Normally, these kinds of sky-high valuations have painful consequences for investors who buy at or near the top. And this time... I fear the consequences could be far, far worse than even I am able to imagine.
What were the valuations of good businesses during the previous periods in U.S. history when the Fed was printing similar amounts of money? No, we're not fighting a Civil War. No, we're not fighting a global war against fascism. But our monetary authorities are fighting a desperate war – a war to save the existing sovereign debt markets... a war to bailout all the world's largest governments... a war to save the U.S. dollar... a war to prevent a social collapse... a war to save themselves. It's a war they cannot possibly win.

Friday, January 31: Nasdaq Composite Index: 4,103. Amazon: $360 a share. Black List Index: 283.
I hope you realize how crazy stock prices have gotten in some sectors of the market. Last month, 20 different securities made our Black List – that's our tally of stocks with market caps of more than $10 billion that trade for more than 10 times sales. That's a level of "froth" we haven't seen since the stock market's greatest-ever bubble in 2000. There's simply no doubt in my mind that stocks are going to head down this year...
I'll repeat what I warned you about last June. The world's economy isn't in a "normal" state. It has been blown about by credit bubbles in almost every major world economy.
The prices of many kinds of securities (stocks, bonds, credit-default swaps, commodity futures, etc.) have been warped in a way that makes them very susceptible to massive swings. Margin debt was, until recently, at an all-time high for U.S. stocks, for example. Despite these real risks, stock prices have rarely been higher in the U.S. That's a dangerous combination.

Friday, March 7: Nasdaq Composite Index: 4,336. Amazon: $370 a share. Black List Index: 317.
I can see that [legendary investor Warren] Buffett is moving large amounts of his assets into extremely safe equities and operating companies. Buffett has been buying electric utilities, railroads, and the biggest banks. These companies don't match his preference for capital-efficient businesses, nor can they give Berkshire an S&P-beating performance over the long term. But... They will survive even a decade-long global crisis. Seeking safety at all cost, Buffett even spent $10 billion on IBM, a fortress-like tech stock. Meanwhile, Buffett is doing everything he can to get out of the U.S. dollar, selling nearly all of his U.S. bonds. The world's greatest investor looks like he's "battening down the hatches." Don't say you haven't been warned.

Friday, March 28: Nasdaq Composite Index: 4,155. Amazon: $340 a share. Black List Index: 289.
Stocks are being sold to the public without any earnings or any realistic chance at generating net income for years. These companies are trading at astronomical valuations that make it unlikely, if not impossible, for long-term investors to do well... It's not the same as 2000: Investors haven't crowded into dodgy stocks and bonds because of a tech mania. This time, the Federal Reserve is pushing investors. People know inflation is coming – sooner or later – and that bonds yielding less than 5% don't offer them any protection or upside. The result is... like a crowd stampeding at a European soccer match... investors have been forced into a corner without an exit.
Yesterday's failed initial public offering (IPO) of video-game maker King Digital marks the first time I can recall a heavily promoted, drastically overpriced stock tanking immediately. Shares of the "Candy Crush Saga" video-game creator fell 16% on its first day of trading. Web-based services Twitter and Groupon have also fallen significantly since their IPOs... but they didn't collapse on the first day.
Looking at what I consider the "Big 3" story stocks in the market right now – Tesla, Facebook, and Twitter – you can see that the last month has been rough. My bet is... these names are going to continue falling. And... at some point... after they're down 25% or so... the negative momentum could begin to influence other drastically overpriced stocks.

Friday, April 4: Nasdaq Composite Index: 4,127. Amazon: $323 a share. Black List Index: 279.
The signs of a top in the bond market have become impossible to ignore again... much like they were last May. And stocks look dangerous, too... The stocks that are driving the market higher (like electric-car maker Tesla, for example) are low-quality. The quality of bond issuance (as you'll see below) is even worse. Thus, I continue to disagree that stocks are safe and should be bought aggressively now.
The investment mania for fixed-income investments, which I thought peaked last May, has returned. Investors spent $3.4 billion in the first quarter of 2014 buying high-yield bonds, outpacing (by a wide margin) the $1.8 billion they invested in high-yield debt in the first quarter of last year. And in some important ways, the mania is now even more dangerous... The quality of this credit has seriously declined with a huge increase in the issuance of "payment in kind" (PIK) bonds. PIK bonds give borrowers the right to repay debt by issuing more debt. These loans are designed with the knowledge that the borrower will at some point have trouble making minimum payments. So far this year, $1.9 billion of PIK bonds have been issued, far more than in the first quarter of last year ($1.2 billion).
The trouble isn't only in bonds. The amount of initial public offerings (IPOs) is soaring, while the quality of the firms going public is declining. Earlier today, four start-up firms went public – online food-delivery service GrubHub, energy-software vendor OPower, call-center software maker Five9, and medical-technology company Corium. These offerings raised more than $400 million by selling stock to the public. Only one of these firms is profitable (barely). The combined net income of these companies is negative $52 million.

Friday, April 11 (the original date of this essay): Nasdaq Composite Index: 4,043. Amazon: $312 a share. Black List Index: 272.
I attended the
Grant's
Interest Rate Observer
Conference earlier this month in New York. This is revered newsletter publisher Jim Grant's twice-annual meeting of Wall Street's most powerful investors. The keynote address came from Jonathan Gray – the head of Blackstone's immense global real estate business. Out of respect for Grant – who, without any doubt, is the best newsletter writer in the world today – I won't discuss the conference in detail until after he has written about it in his newsletter. What I can discuss (mostly because it involves data from Moody's) is the situation Martin Fridson warned about in high-yield corporate bonds.
Fridson is the "axe" on the corporate-bond market. He has studied it longer than anyone else. He knows everyone in the business. And he knows all of the issues. He believes that $1.6 trillion in corporate bonds will default over the next five years. That's roughly 30% of all the outstanding high-yield corporate debt. It's around 1,100 individual defaults. And it's equal to an annual default rate of 7%-8% – far, far below the peak annual default rate of 13%, which we saw in 2009. In short, Fridson's call, believe it or not,
is conservative
.
The problem we face in the high-yield corporate-bond market is that the mix of debt is at an all-time low in terms of rating. There is more very low-quality debt than ever before. During the last restructuring cycle (2009), the Federal Reserve intervened and bailed out just about everyone. That prevented the normal "cleansing" in the market and left a lot of dodgy corporate obligations outstanding.
The prices of bonds, however, don't reflect any of these risks. They were trading at yields below 5% last May and continue to trade below 6% today. Investors who buy high-yield corporate bonds at today's prices will get wiped out over the next two years.
Investors, motivated by the Federal Reserve's efforts to manipulate interest rates to nearly zero, have piled into "risk" assets – like growth stocks and high-yield corporate bonds. They largely ignored the risk of making these investments – buying stocks like Amazon and others at absurdly high prices and ignoring the historic default rates in bonds.
But despite the Fed's efforts... we don't believe that risk has been forever banned. Humans will make misjudgments. Investors, full of confidence today, will feel differently tomorrow. And just as surely as the sun rises and sets, the credit cycle will turn. Default rates will rise from 2% this year... to 6%-8% by 2016... and then to perhaps as high as 15% in 2017.
Anticipating these problems, equity markets will correct. No, this isn't the end of the world. I don't think any of the major indexes will crash down to their 2009 lows. But businesses – like many of the overpriced tech stocks without any earnings that depend on easy access to credit – will come crashing down. Stocks trading at
stupid
multiples will fall by 50%. Amazon, for example, is down about 20% since I first warned you about it. I bet it is only about halfway finished correcting.
What should you do?
If you're sitting on a large amount of cash, I wouldn't be eager to buy a lot of stocks or bonds right now. I'd wait for better prices. They're coming. If you're heavily long the stock market, I'd cut back... significantly.
If you have some experience as a trader, I'd recommend selectively shorting stocks. We keep a "victim's list" of stocks that are either obsolete, overly indebted, or frauds. Start with these. Hedging 10%-20% of your portfolio with short positions can really help reduce your portfolio's overall volatility and can even help you make a profit in a year where stocks fall 10%-20%.
In addition to our short positions, we are selectively adding some stocks to my
Investment Advisory
portfolio – specifically stocks that will weather a correction and prosper in its wake.
Eventually, the Federal Reserve will lose its ability to artificially boost our economy. And rising interest rates will further kill any chances of a true economic recovery and will destroy the middle class. As prices for goods and services are rising, their wages will be stagnant (or worse, falling)...
That's why we're adding exposure to companies that cater to these people – stores that sell the goods they absolutely need (regardless of what's going on in the economy) and the companies that produce them. We also recommended a company that rents affordable, single-family homes.
This widening wealth gap is a major trend... And we're well-positioned to profit as it unfolds. These are some of the most conservative, recession-proof businesses in the market. They're a mainstay in any portfolio moving forward.
You can access my research with a four-month, 100%-money-back guarantee. You'll gain immediate access to all my current recommendations, including this month's issue, which just hit inboxes last week. Learn more about a subscription to
Stansberry's Investment Advisory
by
clicking here
.
But... the most important thing for you to do is simply have a conservative mindset today. Follow your stops. This isn't the time to "be a hero." This is a time to begin raising cash. This is a time to flee risk. A real bottom in stocks is a long, long way from here. We need to see high-yield bonds trading at yields above 10%... or 15%... before we will be even close to that moment.
Regards,
Porter Stansberry