Any weakness in financial stocks alerts us to coming weakness in the broad stock market.
Well, the canary changed its tune...
Here's how the chart of the Financial Select Sector Fund (XLF) looked at the end of the day on Monday...
XLF started this week by breaking to the downside of its rising-wedge pattern (the red lines). That's bearish... and it suggests XLF should soon test the support line of its rising channel (the lower blue line) near $21 per share. That made the financial sector a tempting short-sale candidate.
But the indicators told a different story... As you can see from the two-day relative strength indicator (RSI) – a short-term momentum indicator – XLF was oversold. On a scale of zero to 100, the two-day RSI closed at 3.64 on Monday. It can't get much more oversold than that.
Also, you can see the 50-day moving average (DMA) line was right below at $21.70. That level was likely to provide support for any further weakness. So the short-term downside was limited.
As I told my
S&A Short Report
readers at the time, it made much more sense to wait for the inevitable oversold bounce than to
sell XLF
short now and chase the trade into oversold conditions. On a strong bounce, XLF could rally back up to retest the former support line of the wedge.
I said that sort of move would provide a terrific chance for traders to put on a low-risk short trade. But it would be painful for anyone who chased a short trade lower earlier this week.
We were right to wait.
Here's how XLF looks today...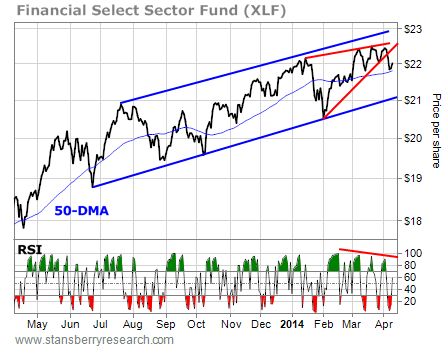 It bounced off the support of its 50-DMA. It's approaching the former support line of its rising-wedge pattern – which is now resistance. And the momentum indicators have rallied off extreme oversold conditions. So there's room for them to work lower again.
The canary tells us this is a much better spot to try to short XLF.
Rather than selling short into oversold conditions and risking the pain of an oversold bounce, traders can now
short the financial sector
as it approaches resistance. If XLF breaks above resistance, traders can exit the trade for a small loss. But if resistance holds and XLF turns back down, traders can make some solid profits.
Best regards and good trading,
Jeff Clark