It's not too late to get into one of the biggest growth trends in the world.
A patent grants a company the right to exclude competitors from selling their product for 20 years. Once a patent expires, it opens up the door to new competition.
In other words, pharmaceutical giants like Merck, Pfizer, and GlaxoSmithKline were about to lose "exclusivity" on some of their top-selling drugs.
I said one industry that would be a huge beneficiary was generics.
Since my essay, many generic-drug companies are up big. But there are more gains to come...
In June, I told you that once brand-name drugs come off patent, generics companies are allowed – by law – to make nearly identical products. Since these blockbuster drugs have already been developed and marketed over their 20-year history, generics companies don't have to incur research and development costs.
Lower costs allow generics companies to charge 60% less for brand-name drugs. This results in an immediate boost to these companies' revenues – and share prices.
In my essay, I recommended you
buy generic-drug companies
like Teva Pharmaceuticals (TEVA), Mylan (MYL), and Watson Pharmaceuticals (now called Actavis (ACT) after a merger in late 2012).
As you can see in the chart below, the average gain for these stocks since my essay is more than 120%. That's much higher than the S&P 500 Index, which gained 39% over the same time frame.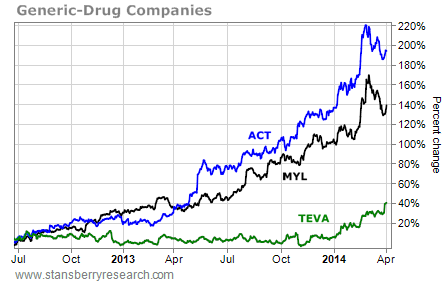 Despite these gains, you have not missed the boat on this trade.
According to health care consulting firm EvaluatePharma, $100 billion in drug sales will be in jeopardy by patent expirations in 2014 and 2015. This includes popular drugs like acid-reflux pill Nexium (made by AstraZeneca), cholesterol-lowering drug Vytorin (made by Merck), and anti-inflammatory Celebrex (made by Pfizer).
And $290 billion of sales are at risk from patent expirations through 2018. To put that in perspective, Big Pharma giants Merck, Pfizer, and GlaxoSmithKline only generated $138 billion in sales over the past 12 months.
If you own these giants, don't worry, they're still generating tons of cash flow. Plus, they are
investing in new biotech drugs
, buying back their stock, and raising their dividends.
But as you can see, the real growth in the pharma sector over the next few years will be in generic-drug companies. They can create nearly identical drugs to take the place of blockbuster drugs. And there are billions of dollars in revenue that could flow into these companies.
Turning to the fundamentals, Teva Pharmaceuticals, Mylan, and Actavis all trade at a discount to the S&P 500. That's insane given that generics companies will easily grow their earnings more than three times faster than the average company in the large-cap index.
My advice is to buy these names today. The sector is still dirt-cheap and earnings will soar over the next two years. That makes generics a no-brainer to outperform the market over the next 24 months.
Good investing,
Frank Curzio