Now there's another indicator that traders need to start watching.
The Volatility Index (the "VIX") is the market's "fear gauge." It rallies when investors get scared. And it falls as investors get more comfortable owning stocks.
Successful traders often profit by doing the opposite of what the investment crowd is doing. So we use the VIX as a contrary indicator. There's a well-known saying on Wall Street that goes... "When the VIX is high, it's time to buy. And when the VIX is low, it's time to go."
It's the second half of that saying that traders should start focusing on today...
Take a look at this chart of the VIX...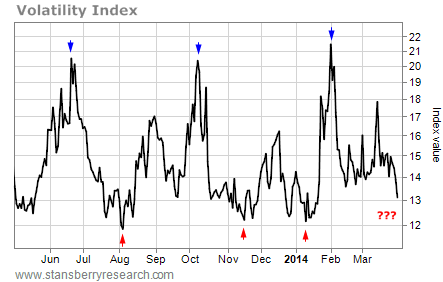 Over the past year, the VIX has traded within a range of about 12 on the downside and 21 on the upside. The red arrows point to
low readings on the VIX
– which correlate to high levels of investor complacency. The blue arrows point to high levels on the VIX – which correlate to high levels of fear.
Here's how the S&P 500 looked at each of those extreme points...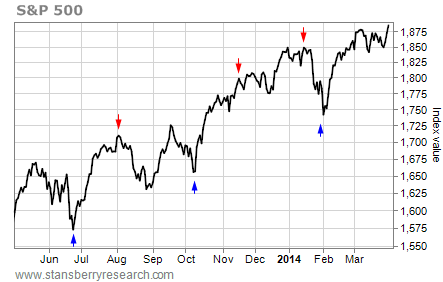 Of the six turning points on the VIX over the past year, five of them led to sharp
reversals in the stock market
. That's a good track record for any technical indicator. And it's one that bears watching right now since the S&P 500 is powering to new all-time highs and the VIX is dropping back down.
There's still some room for the VIX to fall farther before hitting an extreme level. So stocks could head even higher. But along with keeping an eye on the financial sector to spot a reversal in the market, traders ought to watch this chart of the VIX.
It's getting pretty low, so it's almost time to go.
Best regards and good trading,
Jeff Clark