These past two weeks have been a gentle reminder of one of the most important wealth-building ideas you can learn.
This idea is more powerful than any winning stock pick or market forecast. It can mean the difference between a difficult, "penny pinching" retirement... and decades of comfortable, low-stress living.
It's asset allocation.
Put simply, it's how you divide your money among various assets, like stocks, bonds, real estate, cash, and precious metals.
Often when one area of the market "zigs," others will "zag." A good mix will reduce the ups and downs in your portfolio... and protect you from catastrophe.
If you allocate your assets wisely, you'll build safe, long-term, "sleep at night" wealth. If you allocate far too much money into one risky asset that suffers a huge crash, you'll spend years, decades even, rebuilding the wealth you lost. Just ask anyone who had too much money in tech stocks in 2000... or too much money in real estate in 2007.
How much you put into each asset class depends on your age, your risk tolerance, your income, and a dozen other factors. (I featured a sample portfolio from Dr. David Eifrig earlier this year. You can find it
right here
.) But no matter your personal mix, you must make sure to have some portion of your money allocated to both stock and "non stock" assets.
Let's take a look first at the week before last, March 7 to March 14.
Over five days of trading, the benchmark S&P 500 (the black line on the chart below) dropped 2%. Meanwhile, two "non stock" assets I've recommended to DailyWealth Traders – silver fund SLV (the blue line) and municipal-bond fund NIO (the green line) – climbed. Silver jumped 2.7%. Muni bonds jumped 1.9%.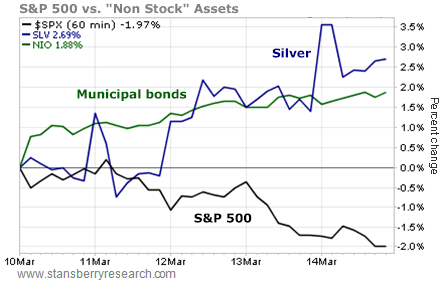 In short, stocks "zigged." Bonds and precious metals "zagged." If you had money in each asset, your losses in stocks were offset – at least in part – by the gains in other areas.
You might look at this and think, I'd have been better off not having money in stocks at all. But take a look at the next chart... It's last week's price action.
You'll see stocks rose 1.4%. The muni bond fund dropped 1.1%. And silver dropped a huge 5.3%.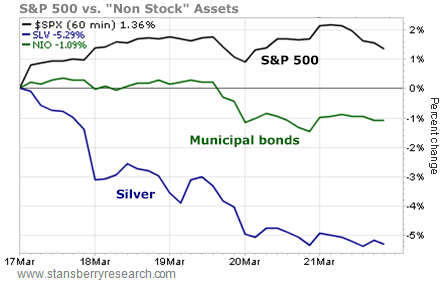 At the start of today's essay, I said the recent price action was a "gentle" reminder of the importance of good asset allocation. None of these assets collapsed.
But you need to be prepared for when something does collapse. You need to be prepared to see stock prices fall in half. You need to be prepared to see the same in precious metals and bonds.
Basic risk-management strategies like
position sizing
and
stop losses
will help. But the most important way to protect your wealth is through intelligent asset allocation.
If you haven't looked at your asset mix recently, do it this week. It could save you from catastrophe down the road.
Good trading,
Amber Lee Mason
P.S. You'll find lots more free content from me posted at
The Crux
. And if you never want to miss another essay,
follow me on Facebook
. (You'll need to sign into your Facebook account and hit "Like.")