It's one of my (Matt Badiali's) favorite ways to invest in America's boom in shale-oil production... and apparently, legendary investor George Soros agrees with me.
The company is Penn Virginia (PVA). Originally named Virginia Coal & Iron, John Leisenring of Mauch Chunk, Pennsylvania founded the company in 1882 based on his coal-mining interests. In 1967, the company changed its name to Penn Virginia Corp. And over the next 30 years, it acquired oil and gas companies that both produced and piped the products around the U.S.
Starting in 2001, the company began a radical series of changes. It spun off both its coal and pipeline operations. Then the thinned-down company went after shale projects in a big way.
I wrote about Penn Virginia's new focus in the October issue of the S&A Resource Report. At the time, I was interested in it because the company was acquiring huge tracts of land in the giant Eagle Ford Shale in eastern Texas, vastly increasing its holdings there.
In 2010, the company owned just 6,800 net acres in the Eagle Ford Shale. By 2013, it owned 62,300 net acres. In 2011, the company generated just 40% of its revenue from crude oil production. In 2013, it produced 80% of its revenue from crude oil.
I could tell, both from the company's expressed plans and the areas that it invested, that its strategy would pay off for investors. So we bought shares for $6.73.
Last week, the fund of legendary investor George Soros announced that it boosted its position in Penn Virginia to more than 9% of the company. The Soros Fund Management hedge fund already had a substantial 5.8 million-share stake in the company. But since the start of 2014, it bought 670,000 more shares, for a total of $8.7 million. The net result of Soros' transactions was to increase his Penn Virginia position from 8.2% of the company to 9.2%.
What's interesting is that his fund paid around $13 per share for its recent acquisitions... almost twice what
S&A Resource Report
subscribers paid back in October. As you would expect, the market went wild, sending shares of the stock up more than 15%. It hit a new 52-week high on Tuesday at $15.73 per share and continued higher.
Investment analysts at SunTrust Bank raised their target price from $21 per share to $25 per share on the news. Readers of my S&A Resource Report are up 146% and are likely to make much more on this investment... Because if Soros was buying at $13 per share, Penn Virginia has more room to grow.
In the October 2013 issue of
Stansberry's Investment Advisory
, we told subscribers about American Homes 4 Rent (AMH) in a segment titled, "The Simplest Business in the World."
Since that time, AMH's share price has increased 11%. The company also announced a $0.05-per-share dividend for the first quarter of 2014. That's an annual yield of 1.2%.
When done properly, the business of renting houses is simple, boring, and profitable.
AMH is running its business the right way. It has been disciplined with acquisitions as well as focused on minimizing operating expenses.
However, the mainstream Wall Street press still doesn't seem to grasp this business...
I (E.B. Tucker) bought rental homes from 2009-2011. Financing was unavailable because of the 2008 bust. I paid cash. When you pay cash for something, you tend to be a lot more careful about your decision. Using someone else's money is much easier.
I used a disciplined model to come up with the price I was willing to pay for a home. The first consideration was rent. How much could I get for that house in that neighborhood? Then repairs... How much would I spend to get the house ready?
After I put these in my model, I could accurately determine what my return would look like. I want to make a minimum of 20% per year on rental property. That gave me plenty of room to deal with surprises. That's my approach to the business.
AMH is slightly more liberal than I was. But AMH has a model, and it's sticking to it. AMH's target leverage is about 30%. So it is still paying cash for 70% of each home purchase. That will keep you disciplined.
In early 2011, my model began telling me the expected returns were less than what I was looking for. When I stopped buying homes, people thought I was nuts.
In the case of AMH, the press tells the story [of the company tapering its home-buying] as if the company has done something wrong. Not at all... It is just sticking to its model. Just like I only wanted to own homes that would generate a certain rate of return... AMH is doing the same.
It is still in the market for homes. The approach is changing. It formed a joint venture last fall with a firm focused on buying mortgage debt. This will allow it to take control of homes before the foreclosure process begins.
AMH and its peers (like Blackstone Group and Colony Capital) are frequently mentioned in articles referencing "a new bubble" or other 2008 housing bust comparisons. But nothing could be further from the truth...
AMH can't possibly blow up a new housing bubble when 70% of its home purchases are made with cash. Liberal use of debt is what ultimately gets people in trouble... It triggers margin calls when prices go down. And in the case of homeowners, no skin in the game makes it easier to walk away. The 2008 crisis was fueled by uncreditworthy borrowers borrowing 100% of the purchase price to buy houses with inflated prices.
This misunderstanding is what gave us an opportunity. Although AMH is now a hold in the Stansberry's Investment Advisory portfolio... you can see how it has done since we recommended it.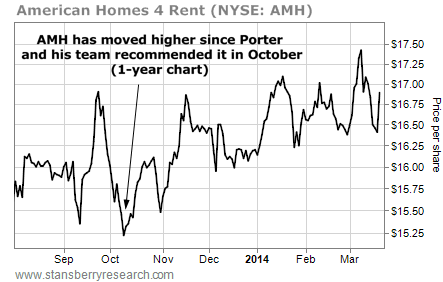 Regards,
S&A Research