It's almost time to buy Chinese stocks.
I wrote the word "almost" just to minimize the amount of eye-rolling that statement likely caused.
Almost nobody likes the idea of buying Chinese stocks right now – for good reason.
The Shanghai Stock Exchange Composite Index (the "SSEC") – the "Dow Industrials of China" – has been stuck in a bear market for almost five years.
Take a look at this chart of the SSEC...
While the S&P 500 has gained 165% over the last five years, Chinese investors have lost 40%.
Remember, though... all markets eventually turn. Bulls turn into bears, and bears become bulls.
The bull has been running a long time in the United States. It's starting to look a little tired, and it may be time to hand the baton over to another market with fresher legs. After resting for five years, it's tough to find a "fresher" bull than China's.
If you can believe the financial statements, many Chinese stocks are trading at single-digit price-to-earnings ratios and at good discounts to book value. Their balance sheets are flush with cash. And it's easy to find Chinese stocks that pay dividends greater than 4%.
Chinese stocks are cheap. Fundamentally, you won't find a better setup anywhere else on the globe.
But from a technical perspective, China still needs a little more work. Here's another way to look at the SSEC...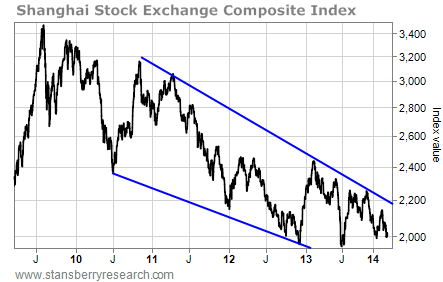 The
Shanghai Stock Exchange
is stuck in a falling-channel pattern – which is a series of lower highs and lower lows. In order to break out of this pattern and establish a new bull market, the SSEC needs to rally above last month's high of about 2,150. It also needs to break out above the down-trending resistance line, which is also at about 2,150 (and falling).
Traders should look to buy Chinese stocks aggressively once the SSEC breaks above the 2,150 level.
The setup looks good. After suffering through a bear market for nearly five years, Chinese stocks are getting ready to go on a bull run. A breakout above 2,150 on the Shanghai Stock Exchange Composite Index should be enough to get the race started.
Best regards and good trading,
Jeff Clark