Just about every commodity on the planet has exploded higher this year.
But copper has been a dud. The metal is down 14% so far in 2014.
And the lagging price raises a larger concern about the state of our global economy.
Let me explain...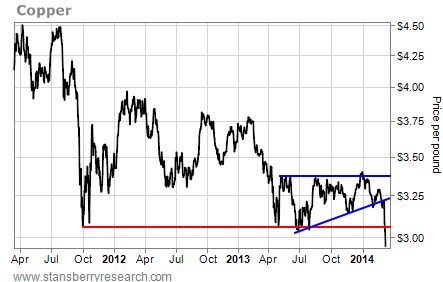 Copper has broken down from an ascending triangle pattern (the blue lines). And it has broken below a critical support line going all the way back to October 2011.
It looks even worse on a weekly chart...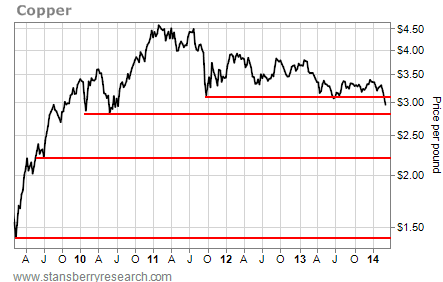 Copper looks poised to test the 2010 support line down at $2.75 per pound. If that fails to hold, the next downside target is $2.25.
Yesterday, Matt Badiali wrote about using the weakness in copper as an opportunity to
buy beaten-down copper producers
. They're trading at super-depressed valuations. I don't disagree that copper-mining companies are cheap. But given how ugly the chart of copper looks, I'd prefer to see the metal show some strength first – and perhaps rally back above $3.10 per pound – before bargain hunting in the sector.
But the larger concern isn't the lagging price of an industrial metal. It's what that lagging price says about the state of the global economy.
Copper is a leading economic indicator. It rallies in advance of economic strength and it declines ahead of contractions.
For years we've been told that the coordinated efforts of the world's central banks are creating growth and prosperity in the global economy. But copper is telling a much different story.
The price of copper has fallen 33% over the past three years. And it looks like it's on the verge of another major move lower.
Up until recently, we could have pointed to the general downtrend in prices over the past three years and dismissed the action in copper as part of the commodity bear market.
But we can't do that now. Gold is up around 13% this year. Silver is up around 10%. Oil has rallied around 8% from its January low. Natural gas exploded higher last month. And agricultural commodities are up 20% or more in 2014.
In other words, all of the commodities that are the most sensitive to the velocity of the money supply (how quickly money is moving through the economy) are screaming higher. Meanwhile, the one commodity that is most sensitive to economic output is on the verge of collapsing.
That's strong support for the argument that the stock market rally of the past few years has been the result of central bank money-printing policies and not robust economic activity.
The question investors have to ask themselves now is: What happens to the stock market if the Fed follows through with its plans to taper its
Quantitative Easing
program?
To get the answer... just take another look at the chart of copper.
Best regards and good trading,
Jeff Clark