"Do more of what's working and less of what's not"...
That's a handy phrase I borrowed from longtime newsletter writer Dennis Gartman. In short, it means cut your losers and let your winners ride.
That strategy works for individual trades... and it works for trading strategies.
One strategy that has been working over the last several weeks has been going long precious metals. Gold and silver are both up about 10% since the start of the year. And last week, the big gold-stock fund GDX broke out to a new six-month high... It's up 29% since late December.
So today, I'm going to show you how to do "more" of that...
Silver Wheaton
is one of the few great silver plays available to traders.
The appeal is the company's simplicity... While Silver Wheaton is technically a "mining play," it does no mining of its own. It finances early-stage silver projects in return for a cut of future production once a project gets up and running. As my colleague Steve Sjuggerud puts it, pretty much all Silver Wheaton does is "drive to the bank and cash royalty checks."
The incredible part is, the company pays about $4 for each ounce of silver. That's 80% below the current spot price. The higher the silver price, the higher Silver Wheaton's earnings... and vice versa. That makes its share price boom and bust right alongside silver.
You can see a huge bust in the chart below. From 2011 to late last year, silver prices fell from about $48 an ounce to $18... And Silver Wheaton lost more than half its market value...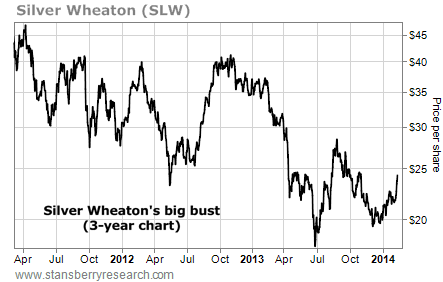 Now... take a look at the right-hand side of the chart. You'll see the stock has put in a "higher low" near $20 and is looking to break out to a short-term "higher high."
The stock is already up 25% from its recent low... but silver has only just started to climb. If the silver rally continues, Silver Wheaton will soar. (As a bonus, the company pays a 1.6% dividend, which will increase alongside silver prices.)
Like gold stocks, Silver Wheaton has climbed a lot in the past two months... After a jump like that, it's reasonable to expect the stock to "take a breather" before continuing higher. So if you buy, be prepared for volatility.
But if you're looking for a small speculation,
precious-metals stocks
are working. And Silver Wheaton has big upside.
Good trading,
Amber Lee Mason