Janet Yellen is here to save the economy...
At her swearing in ceremony in Washington this week, former Federal Reserve Chairman Ben Bernanke's successor gave some comments that indicate she intends to stay the course with quantitative easing.
Yellen noted that "the economy continues to operate considerably short" of maximum employment and stable prices. "The economy is stronger and the financial system is sounder," she added. "We have come a long way, but we have farther to go."
Yellen also worried "too many Americans still can't find a job or are forced to work part-time."
Today, we'll look at the effect the Fed's "quantitative easing" policies have had to date...
Coffee prices hit a new high this week, up over 8%. Coffee is up over 80% for the year, partially due to a hot and dry summer in Brazil, which accounts for one-third of annual coffee output.
Coffee is just one product that's on a tear lately. But
S&A Short Report
editor Jeff Clark thinks the run in agricultural commodities is due for a brief pullback before reentering a bull market that could last several months (if not all of 2014). On Wednesday, he wrote in his real-time
Direct Line
blog...
The huge moves in agriculture commodities this year are amazing. Look at the chart of [PowerShares Deutsche Bank Agriculture Fund] (DBA) – which is up 15% in five weeks. It has recovered all of last year's losses in one month.

Coffee has been the stellar outperformer in this group – up 75% this year so far and up 100% since the low in November.

These moves are wildly extended – even parabolic – and are likely to reverse, similar to the recent reversal in natural gas. It wouldn't surprise me if half the gains were given up during a reversal.

​The options in the agriculture exchange-traded funds (ETFs) – like JO for coffee – aren't liquid enough for me to recommend an official trade. But, for traders who can do a little homework on their own, there's probably a nice short trade setting up in the agriculture group.
Jeff wrote more about the coffee trade
here
.
Another sector staging a big rally this year is junior mining stocks.
Gold stocks got hammered last year. The Market Vectors Gold Miners Fund (GDX) fell 54% in 2013. And the Market Vectors Junior Gold Miners Fund (GDXJ), which holds a basket of small-cap miners, fell nearly 61%.
Since bottoming in December, junior miners have rallied... Several have already doubled and tripled from their lows.
Last month, our friend and Texas oilman Cactus Schroeder wrote about soaring natural gas prices. Prices had recently broken $6 per thousand cubic feet (mcf) due to the rough winter across the U.S...
There is an awful lot of gas being used to heat homes around the country right now. And I think you're going to see more gas used in transportation.
​
Besides the rough winter, some other demands are coming onboard. But you're going to see those prices shrink back pretty quickly. Where it bottoms out I don't know, but I'm going to guess somewhere in the $4-$4.25 range.
Like Jeff, Cactus noticed gas prices had gone parabolic... They were up 93% from August to their February 24 peak at $6.49 per mcf. And as you can see from the following chart, prices quickly came back down to reality...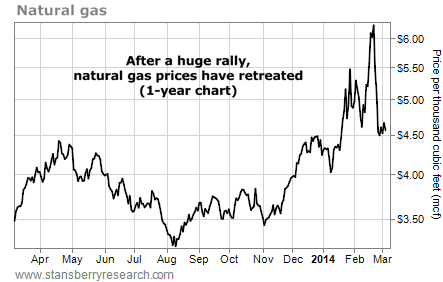 Kudos to the Stansberry Society team for a fantastic inaugural event.
We hosted around 200 people in Miami Beach last weekend. The event kicked off beneath strung lights on the lawn of the Fontainebleau Hotel. The weather was perfect... We had hors d'oeuvres, delicious snacks, and fresh cigars rolled on site.
The next day, we gathered at the historic Fillmore Theater in South Beach (and many more watched the event live online from their homes).
The highlight for me...
There was a collective gasp when Porter announced our mystery keynote speaker... WikiLeaks founder Julian Assange.
Assange joined us via Skype from the Ecuadorian embassy in London. Ecuador has given him political asylum... But he can't leave the embassy. After the introduction, Assange appeared on a giant screen in front of the audience.
Porter had a 30-minute conversation with Assange about WikiLeaks, pervasive government spying around the world, Assange's personal situation, and the future of WikiLeaks.
After a long day of wonderful presentations, we had dinner at one of my favorite restaurants on the beach, Prime Italian. We had the entire restaurant for our function. In typical Porter fashion, dinner was over the top: Kobe beef meatballs, crab cakes, bone-in filets... and a glass or two of red wine.
Overall, it was a top-notch gathering. Thanks to everyone who attended and presented.
If you missed the event in South Beach, we hope you'll join us for the next Society meeting starting May 31 in Dallas. The Dallas meeting is going to be focused on the energy sector... And we've already secured one of the richest and most impressive men in the oil business as our keynote speaker: T. Boone Pickens
We've set aside a small allotment of "early bird" tickets to the Dallas event for the special price of $299. But once they sell out, the price goes up.
For more details on the event, and how to get this special price,
click here
...
Regards,
Sean Goldsmith