It's not too late to get into the offshore oil boom.
In August, I told you one of the biggest beneficiaries of this trend would be the infrastructure companies that build the massive offshore platforms. The two stocks I mentioned, Fluor (FLR) and Foster Wheeler (FWLT), are up an average of 30% since my essay.
But one of my favorite infrastructure companies is selling off right now. And it's presenting a great buying opportunity...
McDermott International (MDR) may be the most hated stock in the world today.
Like Fluor and Foster Wheeler, McDermott designs, builds, and installs the complicated structures and equipment involved in offshore projects. It's one of the few infrastructure companies with a long history – over 50 years – of offshore expertise.
But the company has had some setbacks over the past few years. It has missed earnings estimates the past several quarters due to plant outages, lower margin orders, and several delays at key projects.
And on Monday, the company announced it missed earnings estimates in the most recent quarter by a mile due to delayed projects. More important, management said that it will no longer provide earnings guidance as it undergoes "organization changes."
When a company says it will no longer provide earnings guidance, investors usually run for the exits. Shares fell 8% on the news.
To add to McDermott's woes, several analysts who cover the company downgraded it following the last quarter. Some believe the company could have liquidity concerns later this year. Others believe the stock will do nothing in 2014.
As you can see in the chart below, McDermott has fallen 70% since March 2011. In the same period, the S&P 500 Index is up more than 40%.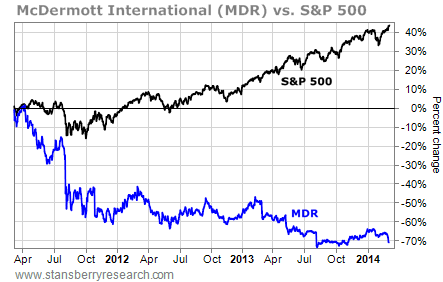 After so many setbacks, I can see why investors (and analysts) are quick to give up on the stock. But a deeper look into McDermott reveals it could offer huge returns with limited risk.
The revenue from McDermott's delayed projects last quarter is expected to hit the top line later this year. In other words, this business was not lost. That's why analysts sharply lowered earnings estimates for next quarter, but just slightly lowered their annual numbers.
McDermott said its backlog of business stands at $4.8 billion. This is a big number, considering the company generated just $3 billion in revenue in 2013.
And there's one thing analysts and investors are ignoring: McDermott plans to bid on $16 billion worth of new projects over the next five quarters. Remember, oil and gas companies are spending a record amount of cash to find crude oil offshore.
Even if McDermott lands just 15% of these projects, the company would more than double sales (if you include the $4.8 billion in current backlog). And news of just one contract win could push shares up significantly from these super-depressed levels.
In the meantime, the company's new management team is launching an aggressive cost-cutting program. This includes selling non-core assets and restructuring debt. Many analysts are also overlooking this. There was not one analyst (and I read at least seven sell-side reports) that adjusted McDermott's earnings positively for this massive cost-cutting program.
McDermott is trading not far from book value (liquidation value). And anyone who wanted to sell has already sold by this point. This gives investors downside protection. Most analysts that downgraded the stock still have a target of $8 and above.
Based on my estimates, McDermott could easily give investors a 30%-plus return by year-end. I suggest buying shares right away.
Good investing,
Frank Curzio