We're not even three months into the year, and that has already proven true.
If you took our advice to buy coffee or the iPath Dow Jones-AIG Coffee Total Return Sub-Index exchange-traded note (JO), you're sitting on huge gains today. But now it's time to take those gains off the table...
Take a look at the chart of coffee below...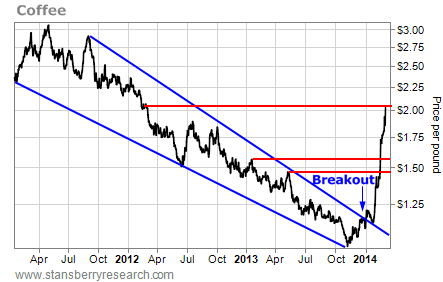 At its high on Tuesday, coffee was up 72% in two months. It has doubled since November.
Now it's time to sell, take your profits, and maybe forget about coffee for the rest of the year. Coffee is going to have a tough time moving higher from here.
The chart is extended after such a huge move higher in such a short time. Now, coffee is running into short-term resistance near $2 per pound. The previous resistance lines at $1.45 and $1.60 couldn't hold coffee back. But the resistance at $2 is more significant.
Take a look at this long-term chart...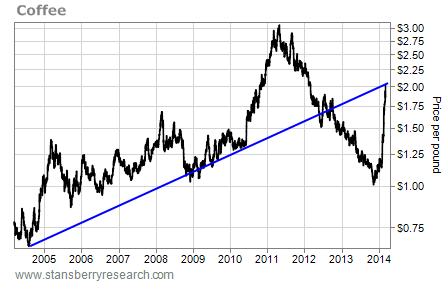 You can see how the
price of coffee
has rallied back up to the support line – now resistance – of the previous coffee bull market. That resistance line goes back almost 10 years. Coffee is unlikely to overcome it on its first attempt.
It's more likely coffee will spend the next few months consolidating its recent gains and ping-ponging back and forth between support at $1.60 and resistance at $2.
There's no need for traders to stick around through that consolidation period. We called 2014 "the year of the coffee trade." But you can get a year's worth of returns in just two months. So it's time to sell.
Best regards and good trading,
Jeff Clark