True Wealth
editor Steve Sjuggerud has made his readers a fortune on the real estate rebound...
He first started urging readers to invest in real estate in early 2011. In True Wealth, Steve looks for assets that are "cheap, hated, and in an uptrend."
At the time, residential real estate was a wasteland... Millions of homeowners were underwater, walking away from their homes, and/or being foreclosed upon. Home prices were at their lowest in 20 years. It was a point of maximum pessimism...
And as with most points of maximum pessimism, people were either frightened or unable (due to bad credit, foreclosure, etc.) to buy houses.
In the March 2011
True Wealth
, Steve explained:
Right now – today – is the best time in history to buy a house in America.
You might think it feels scary out there – that house prices will never go up. But remember two things: First, just a few years ago, people thought home prices would never go down. And second, it ALWAYS feels scary at a market bottom.
Today, I'll show you why it's the best time in history to buy. I'll start with two hard facts...
Fact No. 1) Mortgage rates hit their lowest levels in American history in late 2010.
Today, we are coming off record-low mortgage rates. And we have another thing in our favor...
Fact No. 2) Homes are more affordable than ever.
Based on the 40-year history of the Housing Affordability Index, houses are more affordable than they've ever been.
Steve recommended readers buy physical properties. The average price of an existing home in the U.S. is up 17.2% since his recommendation. And it was up as much as 37% at last summer's seasonal peak.
Of course, that's not possible for everyone... So Steve also recommended the iShares Home Construction Fund (ITB), a portfolio of homebuilder stocks. And he recommended shares of Blackstone Group (BX), the private-equity firm that is now the country's largest residential landlord. Readers are up 102% and 157%, respectively, on those positions.
But Steve says the gains aren't over. Three years later, Steve reiterated his bullish U.S. real estate call in the March 2014
True Wealth
...
I am personally "betting" on the U.S. real estate market.
My bet is sizable... I have more of my own money invested in physical real estate today than in stocks or other financial assets by far.
... However, today, the majority of my money is in real estate.
And I haven't stopped buying property yet... I'm scheduled to close next week on roughly a mile of waterfront land on Florida's Intracoastal Waterway with a few partners.
Why am I buying? Because I think U.S. real estate can climb much higher in the next three years.
U.S. real estate is a lower-risk alternative to the stock market right now. And even if I am wrong about real estate's upside potential and things go wrong in America, U.S. real estate has proven itself as a solid store of value in bad times.
And today, the data support Steve...
The Commerce Department reported Wednesday that new U.S. home sales climbed 9.6% to a 468,000 annualized pace in January. That's the highest level in more than five years.
Also, Home Depot, the country's largest home-improvement retailer, beat analysts' estimates on fourth-quarter earnings last week...
Strong business for home-improvement retailers is usually a good sign for the housing sector. As people buy more homes, they need more goods from Home Depot to fix them up.
The company earned $1.01 billion in the quarter ($0.73 per share), besting estimates of $0.71 per share. Home Depot has topped quarterly estimates 23 times since mid-2008 and matched once.
Two years of rising home prices helped the retailer more than double its forecast for a 2% sales increase in 2013... Revenue jumped 5.4% to $78.8 billion last year.
Home Depot also raised its quarterly dividend 21% to $0.47 per share. Shares are now trading at an all-time high: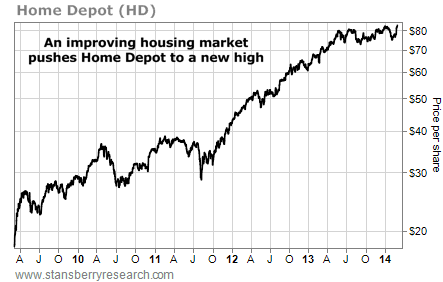 Home Depot competitor Lowe's announced blockbuster earnings last week...
Fourth-quarter net income rose 6.3% to $306 million, up from $288 million a year ago. Net sales jumped 5.6% to $11.7 billion in the fourth quarter. The stock rose more than 5% on the announcement.
Homebuilder earnings are also rising...
Luxury homebuilder Toll Brothers announced that earnings for the quarter ended January 31 totaled $45.6 million. That's up from $4.4 million a year ago – a 10-fold improvement. Toll benefited from the sale of two shopping centers in which it was a 50% partner ($23.5 million gain) and $6.3 million of gains from land sales.
Revenue increased 52% to $643.7 million. The company delivered 928 units in the quarter, up 24% from a year ago. And the average price of the homes was $694,000, up from $569,000 a year ago.
Though home prices are increasing more slowly in recent months... They are still rising across the country.
The S&P/Case-Shiller home price index of 20 U.S. cities rose 13.4% in December from December 2012 (prices rose 13.7% for the 12 months ended November) – the first deceleration since June.
"The housing recovery continues, but perhaps not as vigorously as it did in the first half of last year," JPMorgan chief U.S. economist Michael Feroli (the best home-price forecaster over the past two years) told Bloomberg. "Even so, appreciation trends still look pretty good even though they may not be as strong as they were."
One concerning data point... Mortgage applications are slowing down.
An index of mortgage-application activity, maintained by the Mortgage Bankers Association, fell 8.5% to 348.5 in the week ended February 21. The index includes both purchases and refinancings.
And banks are already preparing for the slowdown...
JPMorgan already fired 16,500 people in consumer and community banking divisions (those responsible for credit cards and mortgages, respectively). And it recently announced it will lay off another 8,000 employees in those two departments – 6,000 of those in mortgages.
And mortgage volume at Wells Fargo, the nation's largest lender, has fallen from $139 billion in September 2012 to $50 billion in 2013.
So what's a bank that's heavily dependent on mortgages to do in the face of a slowdown in creditworthy borrowers? Start lending to less-creditworthy borrowers...
Reuters reported this month that Wells Fargo would seek out less-creditworthy borrowers as it felt it had worked through enough of its bad, pre-crisis loans. Already, the California-based bank has started considering borrowers with a credit score of 600, down from 640.
"Subprime mortgages were at the center of the financial crisis," the Reuters article stated, "but many lenders believe that done with proper controls, the risks can be managed and the business can generate big profits."
Once Wells Fargo starts back into subprime lending, we'll see the other banks follow. The big banks, with their focus on making quarterly numbers, can only stand slowing mortgage underwriting for so long... In no time, we'll see mortgage lenders simply looking for folks who can "fog a mirror."
But that's a long time from now... In the meantime, the increase in borrowers and looser credit will push prices up. But we know how this story ends...
Steve is making a big bet on real estate with his own money. But not everybody is in a position to buy property. That's why in the March issue of
True Wealth
, he showed readers a creative way to get in on the action.
In short, Steve has found a business where you could "earn 11% in dividends in 2014 through the real estate market." Even better, you can earn this 11% regardless of whether home prices go up or down. And it's as easy as buying a stock.
While 11% annual dividends are great, Steve believes this opportunity could ultimately earn investors as much as 30% in capital gains on top of those dividends.
You can get the name of this opportunity – and see Steve's bullish argument – with a subscription to
True Wealth
. To learn more,
click here
.
Regards,
Sean Goldsmith