I suggested you do the same.
The GE acquisition didn't pan out. But since my call, Halliburton is up 23%. That's a solid gain for seven months.
But don't take that money and run.
There are several catalysts that could push shares even higher over the next 12 months...
Halliburton is one of the largest oil- and gas-services providers in the world. It helps companies like ExxonMobil and ConocoPhillips drill for hydrocarbons, provide well construction, and manage production for the life of a well.
As I said in July, the stock could see 35%-plus gains from the massive shale growth potential in both the U.S. and international markets.
So far, Halliburton is performing well, climbing almost three times higher than the S&P 500...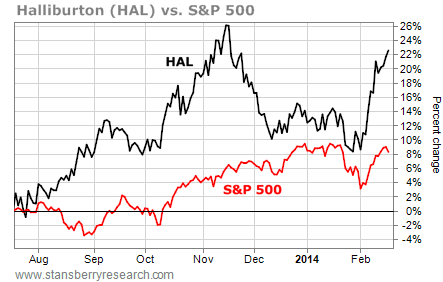 There are a lot more profits to come...
"Cap-ex" is short for "capital expenditures." It's a broad measure of how much oil and gas companies plan to spend to find the stuff.
According to investment firm Barclay's, global oil-and-gas cap-ex has been rising around 7% since 2010. That may not sound like a big percentage. But looking at the numbers, it means oil and gas companies are projected to spend $723 billion over the next 12 months.
The Troubled Asset Relief Program our government passed to save the entire U.S. economy from depression in 2008 didn't even have that much money.
This cap-ex growth is great news for Halliburton. As oil and gas companies spend more money to drill in the oil sands in Canada, offshore in the North Sea, or in the shale areas in Texas and North Dakota... they need Halliburton to help manage their projects.
Another catalyst that should push Halliburton shares higher is
rising oil prices
. Oil prices have surged to more than $100 a barrel. This will allow oil companies to drill in more expensive areas – including deeper parts of the Gulf of Mexico and hard-to-reach shale areas like the Permian Basin in Texas and the Utica Shale in Pennsylvania and Ohio.
This will also result in stronger profits for Halliburton, which manages many new massive oil and gas projects.
Halliburton trades at just 11 times forward earnings today. That's super-cheap. The average S&P 500 company trades at 15 times earnings.
The company is also expected to grow its earnings 30% annually over the next two years. That's about four times faster than the market.
It's one of the few growth stocks in the S&P 500 that's dirt-cheap. And the company should see strong earnings at least over the next 12-24 months.
Halliburton shares have much higher to soar. I urge you to hang on for the ride.
Good investing,
Frank Curzio