"This could be only the middle innings of what could be one of the longest bull markets in history."
JPMorgan chief U.S. equity strategist Tom Lee was bullish on CNBC this week. "There is a lot of firepower to fuel this rally. There is a lot of cash on the sidelines. Consumers have delivered," he said.
Lee said a "three-week buyers strike" has ended... Now we have long investors and hedge funds coming back into the market. He also said this week's statement from Federal Reserve Chair Janet Yellen showed we'd have continuity.
In testimony before the House Financial Services Committee, Yellen said, "I am committed to achieving both parts of our dual mandate: helping the economy return to full employment and returning inflation to 2% while ensuring that it does not run persistently above or below that level."
Yellen's words comforted the markets. And right now, there's no denying that the trend is up...
Biotech stocks hit a new all-time high this week. Biotech is one of the great "boom and bust" sectors. When these stocks enter a bull market, they soar. (They can also bust just as spectacularly.) And right now, they're booming...
Remember... biotech stocks returned 66% last year – more than double the S&P 500's gain.
Steve Sjuggerud originally recommended the iShares Nasdaq Biotech Fund (IBB) in January 2012. His
True Wealth
readers are already up 129% on the trade. But based on history, he thinks biotech has more room to run.
Health care stocks also hit a new high this week. Steve recommended the ProShares Ultra Health Care Fund (RXL) in the April 2011
True Wealth
. Shares were cheap and hated... And we were in the midst of the "Bernanke Asset Bubble" – the stock-price swoon following former Fed Chairman Ben Bernanke's quantitative easing.
True Wealth readers are up 236% on RXL.
Gold stocks are once again the market's big winner... The Market Vectors Gold Miners Fund (GDX) – which holds a basket of major gold-mining stocks – is up 25% in 2014. Junior miners – as measured by the Market Vectors Junior Gold Miners Fund (GDXJ) – are up more than 40%.
Meanwhile, physical gold rose to more than $1,300 an ounce this week – the first time since November.
Despite the rally in gold and gold stocks,
S&A Resource Report
editor Matt Badiali says there's one miner you should avoid: Newmont Mining (NEM). The company fell 71% from its November 2011 high... and has lagged other mining stocks this year.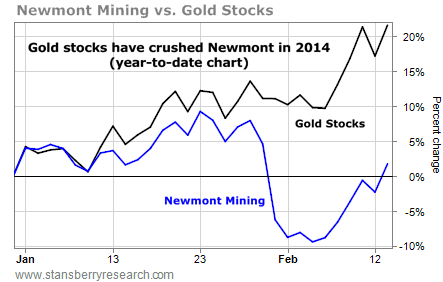 But Matt says Newmont is heading even lower. As he wrote in the February 5
Growth Stock Wire
...
[Newmont] told investors that its cost per ounce in 2013 would be between $1,100 per ounce and $1,200 per ounce.
While it hasn't published its actual results for 2013 yet, we can do the math. The average price of gold in 2013 was $1,407 per ounce. That leaves between $200 and $300 per ounce to cover all of Newmont's non-operating costs... like keeping the lights on and paying salaries.
In other words, the company eked by last year. But 2014 looks grim.
With fewer ounces of gold produced and the gold price at $1,200-$1,300 per ounce, Newmont could be in real trouble. It's why shares are down so much... And when Newmont releases actual results, more bad news could send shares down even further.
Shares of consumer-electronics giant Apple jumped from around $497 to around $545 on Friday – a 9% gain in two weeks.
But Jim Cramer – a former hedge-fund manager and host of CNBC's Mad Money – isn't bullish on the blue-chip company's growth prospects. In an exclusive interview with S&A Investor Radio host Frank Curzio, Cramer explained why Apple is transitioning from a growth stock to a value stock... and what he thinks the company should do with its $150 billion cash hoard to boost its earnings. Cramer's opinion is one we haven't heard anywhere else.
We're thrilled Frank got the chance to speak with Cramer on S&A Investor Radio. Cramer doesn't often speak to the media (except for mass media outlets like The Today Show). But because of his personal relationship with Frank, he agreed to do a 20-minute segment on S&A Investor Radio. We think it's one of the best interviews you'll hear all year.
Frank detailed Cramer's argument in
yesterday's Growth Stock Wire
. You can also listen to Frank's 20-minute segment with Cramer on S&A Investor Radio by
clicking here
.
"I can't even recall a bargain this good."
Dr. David Eifrig's latest issue of Retirement Millionaire hit subscriber inboxes on Wednesday. In it, he highlighted a brand-new stock recommendation. As you can tell from the quote above, Doc thinks it's a great opportunity.
Without sharing all the details, I can tell you the company has raised its dividend for 46 straight years and currently yields more than 3%. Plus, shares are down 20%-plus over the past six months due to irrational market fears, which Doc addresses.
This stock is one of the few non-speculative values in the market today... It's a super-safe household name.
Doc also shared his nine best tips for preserving wealth. If you follow these nine rules, you are guaranteed to save more money and compound your wealth.
Finally, Doc arranged for a special deal on wine from two of his friends in California... The deal is exclusive to Retirement Millionaire subscribers.
You can immediately access all this information with a 100% risk-free subscription to
Retirement Millionaire
. It's only $39 a year.
Click here
to learn about a subscription.
Regards,
Sean Goldsmith