Last year, I told you something Wall Street doesn't want you to know.
Wall Street does not want you to know about these stocks because you are likely to buy and hold these names forever. In other words, you won't need to pay huge brokerage fees on a portfolio that has little trading activity. There's no "action" with these stocks... just safe compounding for years and years.
I told you about the staggering profits you can earn from elite small-cap dividend-payers in the long term. Buying these stocks can turn the average investor into a millionaire over time. But buying them right now could also result in big returns in the short term. Let me explain...
If you've been investing for more than a few years, you've probably heard about the strategy of owning companies with long records of consecutive dividend increases. I'm talking about companies like Coke, Chevron, and AT&T.
Many of the world's greatest investors – including billionaire investor Warren Buffett – used this strategy to safely get rich in stocks.
They bought brand-name, dividend-paying stocks decades ago and reinvested the dividends. This is known as compounding... or reinvesting the money you make from an initial investment to make even more money.
If you do this over a long period, you can earn astounding profits from your initial investment. For example, say you start with an initial investment of $10,000. If you earn 10% annually and reinvest these gains each year, you can earn over $450,000 in 40 years.
That's 4,325% returns by compounding
. (You can run the numbers yourself by
clicking here
.)
And this total assumes you are not adding any new capital to your investment. If you contribute $100 to your investment each month and compound your returns for 40 years... your initial investment grows over 10,000% – to more than $1,000,000!
But the key to making big returns is investing in the right stocks.
Sure, names like Coca-Cola, Chevron, and AT&T have been raising their annual dividends for decades. However, investors buying these names 30 years ago made a fortune both through reinvesting their dividends and through capital gains.
That brings us to my elite, small-cap dividend portfolio. These companies have raised their annual dividend for decades... just as long as Coke, Chevron, and AT&T. They pay high yields just like these names. They are trading at cheap valuations. And they are growing more than three times faster than the average large-cap stock.
More important, these elite small-cap companies have a history of outperforming the market during tumultuous times like today – with companies reporting less-than-stellar earnings results, economic data in the U.S. weakening, and emerging markets like Brazil and China slowing.
Take Diebold (DBD), for example. Most people have never heard of it. But it's the world's No. 1 supplier of ATMs. It's also a leading supplier of security products, like bank vaults and safes. It's a 150-year-old company with huge growth potential as more banks around the world upgrade to newer ATMs.
And as you can see in the chart below, Diebold is a great stock to own in bad markets. The stock easily outperformed the market during the past three major downturns, including 2000, 2002, and 2008. In 2008, the company outperformed the S&P 500 by over 35 percentage points.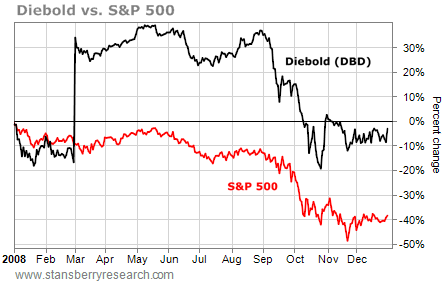 A lot of companies were cutting their dividends in 2008 to preserve cash. Diebold raised its annual dividend. In fact, it has increased its dividend payment every year for 60 years. That's the longest dividend-raising streak of any company in North America. It's the perfect stock to buy, hold, reinvest the dividends, and earn capital gains in for decades.
But today's market is different than past downturns. You see, interest rates are near historic lows. That makes small-cap dividend-paying stocks even more attractive in today's weak market – thanks to their safe, higher-than-average yield.
Diebold pays a 3.4% yield. That's almost twice the size of the average S&P 500 company, which pays a 1.8% yield.
It's also cheap today, trading at about three times book value. For comparison, Coca-Cola trades at four times book value and McDonald's trades at six times book value.
That's why I expect money to pour into Diebold and small-cap dividend-paying companies like it – offering big returns for investors in the short and long term.
Diebold is just one of the five elite small-cap dividend-paying stocks in my Small Stock Specialist newsletter.
These little-known stocks are stable businesses that generate strong cash flow. They also offer high yields and are growing faster than the average large-cap company. Plus, these stocks are likely to outperform the market this year and well into the future.
That's why legendary fund managers like Mario Gabelli and Joel Greenblatt are building positions in these names today. If you're looking for a safe place to make money right now, don't wait to buy these stocks.
Good investing,
Frank Curzio