Everyone is talking about gold today. We've been waiting for the rally, some of us for more than a year. And it looks like it's finally starting...
The spot price of gold rose this week to more than $1,260. The Market Vectors Gold Miners Fund (GDX), which holds a basket of mining stocks, was up as much as 4% on Thursday. The Market Vectors Junior Gold Miners Fund (GDXJ), which holds a basket of junior miners, was up more than 5%.
GDX is up more than 11% in 2014. GDXJ is up more than 16%.
One reason for Thursday's move higher is news from India, which was the world's largest gold consumer before China overtook the No. 1 spot in 2013. India recently imposed a tax on gold bullion to stem its falling currency, the rupee. We explained the situation in the December 12
Digest
...
[T]he outflow of dollars spent on gold has caused a widening trade gap and current account deficit... which has crushed its currency, the rupee.
To combat an accelerating current account deficit and a falling rupee, the government imposed a 10% tax on gold bullion imports in August, up from 8%. It's the fifth increase since January 2012. And in July, the Reserve Bank of India ruled that 20% of all imports would have to be re-exported.
But as we know, government restrictions never have their desired effect... Indians are simply smuggling the metal into the country.
Between April and September, customs officials seized 15.2 billion rupees (or $2.5 billion) of gold coming through ports and airports, according to an official from India's Directorate of Revenue Intelligence. That's up from 2.8 billion rupees in the same period last year.
Some members of the Indian government are asking for the taxes to be eased. If the taxes were cut, we'd see more gold flow into India.
Meanwhile, the market for virtual currency Bitcoin is growing by the day...
Online retailer Overstock – which does $1 billion in annual revenue – just announced it would accept Bitcoin as payment.
David Marcus, president of online-payment processor PayPal, said "We're believers in [Bitcoin]" on the social-networking platform Twitter.
eBay UK is opening a "virtual currency" marketplace on February 10 for the exchange of Bitcoin.
Two Las Vegas casinos – The D and Golden Gate – announced they would accept Bitcoin at their front desks, gift shops, and restaurants (but not on the casino floor).
We'll soon see the first Bitcoin ATM in New York's East Village.
And last week, the UK's University of Cumbria announced it will begin to accept Bitcoin for tuition (the first university in the world to do so).
The stories continue...
As you can see from the chart below, the price of Bitcoin has skyrocketed (with incredible volatility):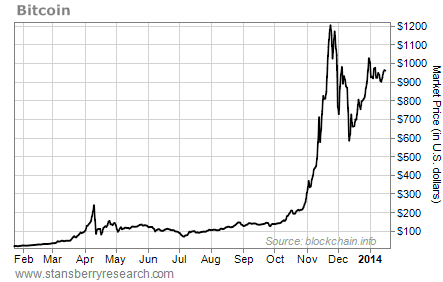 The rise in price and popularity of Bitcoin shows people want out of fiat currency. We support the sentiment. Governments around the world are in a race to debase their currencies.
But Bitcoin is a speculation. We're not saying something won't come around to displace the U.S. dollar... We just don't think it will be Bitcoin.
Our own Steve Sjuggerud recently put together a presentation sharing his thoughts on Bitcoin. If you're interested in learning more about the digital currency and hearing Steve's take on it, be sure to watch it.
Steve also shares what he views as the best alternatives to Bitcoin and the U.S. dollar. He recommends the Chinese renminbi and various forms of gold. He thinks both are great ways to protect yourself from a declining dollar, collect interest, and have great upside potential.
One of the world's best international investors, Jim Rogers, agrees with two of Steve's biggest macro calls for 2014...
Like anyone with a basic understanding of economics, Rogers understands the massive quantitative easing we're seeing around the world can't last. As he told Internet news service Reuters TV, "When it pops, when this artificial sea of liquidity dries up, it's not going to be fun... But I don't see any reason why it will stop any time soon."
Rogers called Japan and China two of his top places to invest this year. While U.S. stock markets are near their all-time highs, Japan is still 70% below its record highs. Rogers also noted a new law that makes it tax-free to invest in Japanese stocks... "I've been investing a long time, and every time a country does that, people invest," he said.
As for China, Rogers said the government has committed massive resources to cleaning up pollution, railroads, and health care. He believes stocks related to those sectors will perform well.
Steve is bullish on Japan because Prime Minister Shinzo Abe has pledged to print as much money as is necessary to stoke Japanese inflation and boost asset prices. He believes we'll see Japanese stocks continue to soar... just as we've seen in the U.S. (They're up 80% in the last two years, as measured by the Nikkei Index.)
And Steve likes China because the stocks are dirt-cheap. The past two times they've been this cheap, Chinese stocks made triple-digit moves higher. And he believes fears of a Chinese bubble are overblown... Yes, China has a lot of debt. But like the U.S., Steve believes we'll see a big rally in the intermediate term.
Both of Steve's recommended Japanese stocks are still rated "buy" in his portfolio... As are his three favorite ways to buy Chinese stocks. You can access these recommendations with a subscription to
True Wealth
. Learn more by
clicking here
.
Regards,
Sean Goldsmith